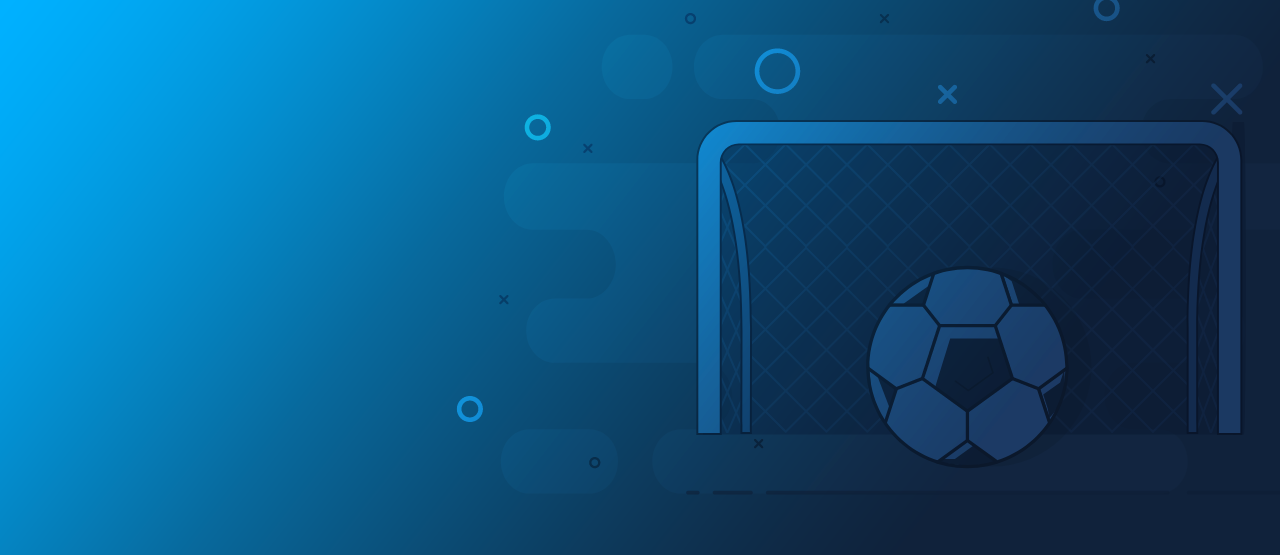 08 Feb 2023
How to Bet on Football - Betting Guide for Beginners
Football is one of the most followed sports, with millions of fans worldwide. That has seen a huge number of football betting sites crop up over the past few years. But then, not everyone knows how to place football bets. This Football betting guide for beginners will take you through everything you need to know about football gambling.
Do You Find This Topic Interesting?
How Football Betting Works
The only way to place football bets like a professional is to understand how football betting works. Football betting entails punting on select football matches. The events are sourced from different football tournaments such as the:
European Championship
FIFA Club World Cup
FA Cup
Each sportsbook provides you with a different number of football markets and varied odds sizes on which you need to place bets. Furthermore, some offer special features to assist with football betting. Therefore, it is up to you to decide which markets to pick and the odds to consider while placing football bets. Keep in mind that you can place pre-match or live bets. Also, most sportsbooks offer fixed odds betting and spread betting, making them accommodating.
Football Odds Explained
Football odds represent the probability of a football event occurring. They usually accompany betting markets on any football match. Using football odds, you can calculate how much money you will earn if you place a winning bet. That is why you are advised to only pick sportsbooks with significant odds. Odds can also be used to identify the favourite team and the underdog, especially if you are planning to place the simple Home Win or Away Win bet.
Note that different countries and continents use different odds formats. That explains why bookies offer odds formats such as American, Malay, Indo, Hong Kong, and Decimal to its players. It is vital to consider the odds of any bookie before signing up.
Most Common Football Betting Types Explained
It is impossible to place a bet without football betting types. Betting markets are used to guide you on the kind of predictions you can make on a sportsbook. Here are some common football betting types that you should know.
Outright (winner) bets
Outright Winner is a betting market that requires you to determine which team will win a specific tournament. It can be the UEFA Champions League or the English Premier League. For example, you can predict that Manchester United will win the championship of the 20 football clubs in the Premier League. As a result, you will only earn a profit if Manchester wins the league. It is advisable to consider the Outright Winner option before the tournament begins to enjoy high odds.

Handicaps
Handicap is a common betting option whenever a superior team plays an inferior football club. The purpose of the handicap is to level the playing field by disadvantaging the superior team. For instance, if Manchester City is playing against Watford, the bookie can give Manchester City a -1.5 handicap. For Manchester City to win, the bookie will subtract 1.5 from Manchester City's final score and compare the results to that of Watford. If Manchester City still leads, you win the bet. In football, there are two types of handicaps, Asian Handicap and European Handicap.

Over/Under Markets
Over/Under is yet another common football betting market in the football betting scene. The option is suitable if you want to predict variables and not the exact result. For example, you can predict the Total Score of a match to be Over 2.5. Therefore, you will win the football bet if the total match score is three and above.

Accumulators
An accumulator is a type of bet that contains multiple predictions combined into one. The main types of accumulators include:
Treble
Four-Fold
Five-Fold
Six-Fold
In a tournament, you can bet Arsenal to Win, Chelsea to Lose, Manchester City to Win, and Crystal Palace to Win. If all predictions are correct, you will win the accumulator. However, if any prediction is incorrect, you lose the entire bet.

Totals - Corners, Bookings, etc
Totals is yet another betting option common among bookmakers. The betting market requires you to determine the total number of corners, goals, or points earned in a match. You can also bet on the total number of bookings of an event. Totals betting option is often used together with Over/Under. Suppose Arsenal is playing Leeds United. You can bet on Total goals over 2.5. To win the bet, the total scores made by both teams should be three and above.

Double Chance
Double Chance is an extension of the popular 1x2 football betting market. In this case, you get to predict two independent outcomes of a single event. You can choose Home Win or Draw or select Away Win or Draw. For instance, if Chelsea is playing Arsenal, you can pick Chelsea to Win or draw. Therefore, you will earn whether Chelsea Wins or Draws. However, the betting option usually has smaller odds since it is considered less risky.

Scorecast
The Scorecast is an excellent football betting option if you wish to combine two bets into one. Scorecast requires you to predict the initial Goalscorer and the Correct Score. Hence, if Liverpool is Playing Chelsea, you can predict Moh Salah to be the first Goal Scorer and Liverpool to win 3-1.

Half Time/ Full Time
Placing Half Time/ Full Time bet entails predicting the half time score and the full time result of the match. If it is a knockout, extra time does not apply but rather the usual 90 minutes of the match. Before placing the bet, you should know that halftime and full time have three possible outcomes. That is Home Win/Draw/Away Win. Therefore, for a Brentford Vs Leicester City match, you can Predict a Draw at halftime and Leicester City to win full time.

Long Term and Special bets
Long term and special bets are important to consider if you want to enjoy profitable odds. Long term betting involves placing a football bet on events weeks or months before they happen.
Some sportsbooks refer to long term bets as Futures.
The best type of long term bet is the Outright Winner or Tournament Winner betting option. On the other hand, Specials betting entails wagering on outcomes that may or may not occur during a football event. The best example of specials bets includes Manager bet or Player bets. Like tong term bets, specials bets have competitive odds that you can benefit from when punting on football events. However, timing is key, especially if you are after enjoying the best odds across the market.
How Does Live Betting on Football Work?
Football betting is divided into two broad types; pre-match betting and live betting. Live betting involves punting on football events after they start. Usually, sportsbooks place their live football matches in the in-play section making them easily accessible. The advantage of in-play betting is that you get to be part of the action. You have to be keen on the match if you want to place a likely live bet. Therefore, you are advised to choose a sportsbook with special live betting features such as live stream and cash out.
With the functions, you will have complete control of your betting account. After all, the features allow you to watch live football events and withdraw your wager from a bet. But then, before you proceed to the in-play section, note that in-play odds vary depending on the action on the pitch. Furthermore, the operator may lock some markets, making them unavailable for punting.

100% Bonus on the First Deposit up to $100
100% Bonus on the first deposit up to €/$130!

How to Place a Football Bet: Step-By-Step Guide
Placing a football bet is an easy task. You just need to apply a few steps, which will be explained in this football betting guide.
Choose A Football Betting Site
You need to choose a desirable football betting site before you begin placing football bets. Ensure the site covers all the major football tournaments and has a full range of Football betting markets. Additionally, it should have useful football betting features such as a bet builder, cash out function, and live streaming feature. All these functions make football betting effortless.

Create Your Betting Account
Once you have the ideal football betting sportsbook, you need to create an account. Open the registration page and share your email, personal information, and residential data. You also need to email your documents to the operator for verification. Note that account registration is the only way to have unlimited access to various sections of a bookie. Moreover, it is the only way to place real money bets.

Choose A Payment Method and Make a Deposit
With an account, you can access the cashier page, which will require you to choose a deposit method. Football bookies' main payment methods include VISA, MasterCard, Neteller, ecoPayz, Skrill, and PayPal. Once you settle on the payment method, confirm the first deposit min and fund your account. Make sure you adhere to the deposit method restrictions.

Make Your Bets
You can claim free bet credits stake upon a qualifying bet settlement or use real money to place a sports bet with a positive bankroll. But first, you must go through the events provided by the operator and analyse the suitable betting markets. You also need to compare the odds before placing a bet. All these aspects will increase your chances of placing a likely bet on the sportsbook.

How To Start Betting?
Everything You Need To Know In 5 Easy Steps!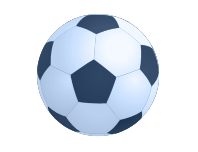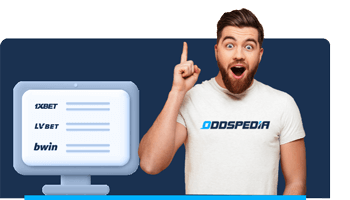 Pick A Highly Rated Bookie
Find the right bookmaker for you and sign up.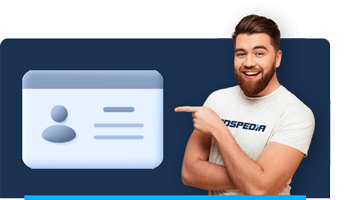 Fund Your Account
Make a deposit with the payment method you prefer. Consider responsible gambling features and bankroll management.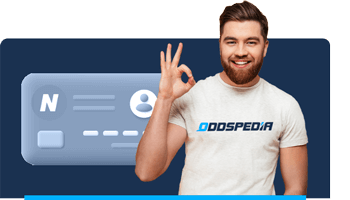 Claim Your Bonus
Many betting sites have a welcome bonus or free bet, which you can claim after making the first deposit. *never forget to read the small print!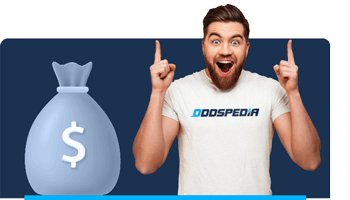 Choose An Event To Bet On
Find an event you are interested in, select a betting market that appeals to you the most and "click" on the odds.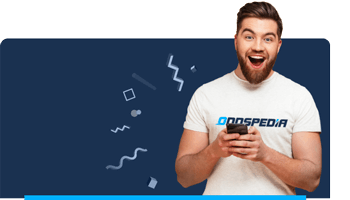 Start Betting
Go to the bet slip and input the details of your desired bet and confirm the wager.
Tips and Strategies For Betting On Football
Placing winning bets is not easy whether you are an expert or amateur punter. That is why you should adhere to the tips and strategies below for betting on football.
Look out For the Best Available Odds
Bookies offer different football odds depending on the betting market. You need to make sure you look for the best odds available. To get competitive odds, compare multiple sportsbooks. Also, check the live and pre-match odds to find out whether they are competitive. Note that the bigger the odds, the bigger the profits. Another important aspect to consider is the odds formats. A bookie with different odds formats such as Hong Kong, Malay, Indo, and Decimal is the most recommended.

Take Advantage of Matched Betting and Arbitrage Betting
Matched betting and Arbitrage betting are types of football punting to consider if you want to increase your winning chances. In matched betting, you use the bookie's bonus, for instance, the free bets credited to win real cash. That is by placing a match bet using the promo amount. On the other hand, Arbitrage entails placing different outcomes of the same event on different sportsbooks, altogether covering the risk.

Follow Football Tipsters and Their Expert Predictions
You need to follow football tipsters and make use of their expert predictions. That alone will see you increase your chances of placing successful bets. Football tipsters often do thorough research on different football games before providing expert predictions. Using their football betting advice can save you time when placing football bets. They can also come in handy if you are an amateur punter.

Keep Track of Your Betting Record
You need to keep track of your football betting records. That is by analysing your losses and wins in different football events. To make record tracking easy, make sure you keep detailed football betting notes. Using the records, you can easily identify which betting methods are working. You can also determine whether it is time to come up with a new betting system.

Take the Small Wins and Profits
You need to celebrate small wins and profits. Such wins can help you maintain your bankroll. Moreover, when put together, small profits are substantial. By taking small wins, you will not have the urge to win big, a step that might lead to significant losses. The betting strategy is important to keep in mind, especially if you are new to sports gambling.

Most Common Football Betting Mistakes
Making football betting mistakes can cost you a win or deplete your bankroll unknowingly. Make sure you go through the common football betting mistakes below and see how you can prevent them.
Not Familiar with The Sport
Before you place any bet, you need to be familiar with the sport. For instance, understand football rules, and teams, and if possible, know the players, their strengths and weaknesses. This will make it easy for you to research different football events. Also, you will not have to go back to your notes every time you want to place a bet.

Ignoring Team Form and Injuries
Ignoring team form and injuries will see you make incorrect predictions. The form of a team is directly proportional to its performance. If a team's core players have injuries, there is a chance that the football club will underperform. Ignoring such elements will make you miss substantial football betting odds, especially when placing a Match Winner bet.

Mismanaging Your Bankroll
You are likely to mismanage your bankroll if you are not keen on your betting habits. The mistake is common among amateur bettors. When you are new to football gambling, you are likely to place bets blindly so long as you win big. To avoid mismanaging your bankroll, develop weekly and monthly betting limits and ensure you don't exceed the set limits.

Avoid Betting on Your Favourite Team
Make sure you refrain from betting on your favourite team. That is by avoiding emotional bets. Instead, bet according to the findings you make after extensive research. If your team is Chelsea and the facts show they will lose in their next match, don't hesitate to bet against them. That will keep you from making incorrect bets which will cost you your stake.

❔

How Do You Place a Bet on Football?

To place a bet on football, you need to sign up for an account at an online bookmaker and make a deposit. After that, select a football match, analyse the betting options, do your research, and place a bet.

🏆

Which Is the Best Football Betting Site?

Betfair is the best football site. The sportsbook has a long list of football fixtures and a full range of markets. They also have an amazing welcome bonus that you can use to place free bet stakes.
💶

How Are Football Betting Odds Calculated?

Football betting odds are calculated based on the probability of an event happening. However, most sportsbooks use software to calculate football betting odds.

💳

What is ACCA Insurance?

ACCA insurance is a football promotion that allows you to protect a percentage of your football stake in case of a loss. However, the insurance is only applicable to accumulators and not single bets.

🤔

What is Cash Out?

Cash-out is a football betting function that allows you to withdraw part of your full stake from an active bet. It is mostly available on select in-play or live bets.

❔

Can I Cash Out On Football Betting?

Yes, you cash out on football betting. But then, not every event allows cash out. You need to make sure the bet offers cash out before applying the feature.

🏆

Can I Use a Free Bet on An Accumulator?

Yes, some sportsbooks allow you to use free bets on accumulators, especially when placing football bets. Confirm the promo's terms and conditions or contact customer support if you lack an outright answer.

💶

Can I Bet Live on Football Matches?

Yes, you can bet on football matches even after they begin. Most bookies offer live betting services to attract punters to their platforms. But then, confirm on the bookie's lobby to make sure they offer live betting service.

💳

Does Overtime Count in Football Betting?

Overtime counts in football betting. However, there are instances where it does not. For instance, overtime will not apply when placing bets that involve specific halves or quarters, such as Half Time bets.

🏆

What Does Over/under Mean in Football Betting?

Over/Under is a football betting market also known as a spread bet. It does not require you to predict the exact outcome but rather a bet based on select variables. For instance, it can be Totals Over/Under. Over/Under 2.5 is the most common Over/Under market.

This article was written by our team of betting experts, any contributing references are noted below.