Betting on cricket at online sportsbooks
Cricket is among the most popular sports for bettors around the world, but how exactly does it work?
If you're new to cricket, let's take a quick look at how exactly the sport works. Cricket matches are played by two teams of eleven players.
The aim of cricket is to score more runs than the opposing team. Each team takes turns batting then bowling and fielding. Batters can be got out if the ball they hit is caught by a fielder. They can also be out if the bowler manages to hit the wicket, or if the batter accidentally hits the wicket themselves.
Cricket is played throughout the world, but it's most popular in countries like the UK, where it originated, Australia, India, the West Indies, Bangladesh, Sri Lanka, and Afghanistan.
There are several different forms of cricket, with the two most popular being Test cricket and Twenty20 (T20). Test matches are played over the course of five days, while Twenty20 is a more fast-paced version, with each time batting for one innings of 20 overs.
Most popular cricket betting events
Cricket betting is very popular for both club and international level events. Most club level events are T20, with the Indian Premier League (IPL) by far the biggest. The IPL has the most money and attracts all the best players from around the world, so it's naturally one of the most popular competitions among cricket bettors. 
Australia's Big Bash League, the Pakistan Super League, and the UK's T20 Bash are other big leagues. These are also popular among bettors, although less so than the IPL.
Cricket also has a huge international scene. International events range from test matches to one-day matches and T20. The main competitions are organised by the International Cricket Council, with the main one being the World Cup. Like in soccer, the cricket World Cup is played every four years, with England having won the most recent one.
There are also often big cricket test matches that are played out between two teams that aren't part of a bigger tournament. The most famous is the Ashes, played every two years between rivals Australia and England. Other big rivalries include India vs Pakistan and England vs the West Indies.
Cricket is less popular in the US, where it's never managed to reach the level of baseball, football, basketball or hockey. However, it still has a loyal following of US fans.
How To Start Betting
Everything You Need To Know In 5 Easy Steps!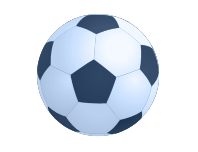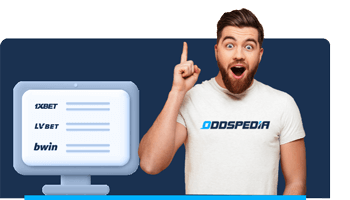 Pick A Highly Rated Sportsbook
Find the right betting site for you and sign up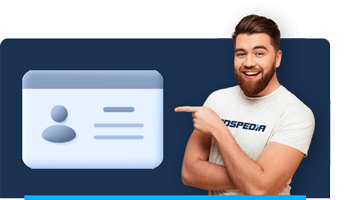 Fund Your Account
Make a deposit with the payment provider you prefer. Consider responsible gambling features and bankroll management.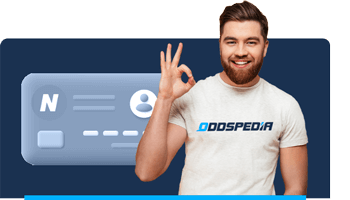 Claim the Bonus
Many betting sites have a welcome bonus or free bet, which you can claim after making the first deposit. *never forget to read the small print!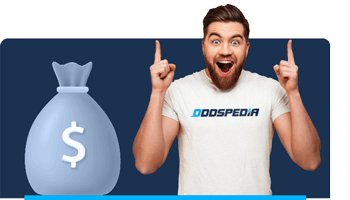 Choose An Event To Bet On
Find an event you are interested in, select a betting market that appeals to you the most and "click" on the odds.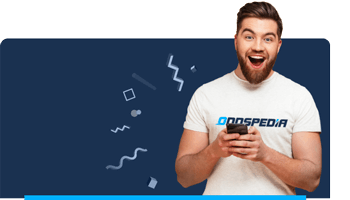 Start Betting
Go to the bet slip and input the details of your desired bet and confirm the wager.
Markets available at cricket betting sites
The best online bookmakers offer a wide variety of betting markets when it comes to cricket. Let's take a look at the most popular, starting first with bets on the performance of teams, and then with bets focused on specific players.
Cricket team bets
Match result - The most popular and simple cricket betting market, this simply consists of picking which team will win, or whether the match will end in a draw.
Draw no bet - Some bookmakers also offer this option, which means you pick a winner and if the match ends in a draw, the bet will be void and you'll get your stake back. Of course, this will mean you get slightly worse odds than if you just make a regular match result wager.
Outright - Outright bets involve betting on the outcome of an entire tournament or competition, rather than an individual match. For example, a bet on Nottinghamshire to win the T20 Blast is an outright bet.
First innings lead - Here, you're betting on which team will be in front after the conclusion of the first innings.
First over total runs - You can also bet on how many runs will be scored in the first over at many bookies. In most cases, you won't be betting on a specific number. Instead, you'll be betting on there being more or less runs than the number set by the bookie.
First wicket method - There are several ways players can be caught out by hitting the wicket. The main one is if the bowler hits the wicket, another is if the batter accidentally hits it. Some betting sites allow you to bet on the method of the first wicket in a match.
Team to win the toss - In cricket, a coin is flipped at the start of each game to decide which team will bat first. This is known as the toss, and some bookies allow you to bet on it. However, bear in mind this is simply a 50:50 wager.
Cricket player bets
As well as betting on the performance of teams, you can also bet on the actions of players. Here are some common examples:
Batter runs - One of the most popular cricket player bets is a wager on how many runs a batter will score, even in an innings, a whole match or a series.
Wickets - At some cricket betting sites, you can also bet on the amount of wickets a bowler will get.
How we evaluate the best cricket bookmakers 
To bring you the best cricket bookmakers, we thoroughly examine the key aspects of each site we review. Here are the main factors we consider. 
Live betting 
Live betting is hugely popular among bettors, and it's easy to see why. Not only can you bet as you watch the excitement unfold, but you can even potentially get some good odds if you're quick off the mark.
This is why we prioritize betting sites that offer an excellent live cricket betting experience. By this, we mean that live betting is available for a wide range of events, that it works smoothly without issue, that there's a good variety of live bet types available, and that it's updated instantly without lag.
Live streaming
As well as live betting, some betting sites also allow you to actually watch live cricket matches. This is perfect if you're a fan just wanting to watch cricket, and also if you want to watch the game live while you bet in-play. 
Not all cricket betting sites offer live streaming, so we've picked out the best ones to do. We've considered the amount of streams available and the quality of the streams. We've also checked what you need to do to watch a stream, like bet on a game, and ensure the terms are fair.
How competitive the odds are
Odds are everything when it comes to betting. Even a small difference in odds can have a big impact on your potential winnings, particularly if you're placing big bets.
There are often slight differences in the odds offered by different sportsbooks. This can make it difficult to know which cricket betting sites have the best odds, but fear not. For each site we review, we compare their odds to what other sportsbooks are offering. This enables us to only feature cricket betting sites that have competitive odds for both pre-match and live betting.
How far in advance odds are available
Cricket leagues and tournaments follow a set schedule, and international test matches are announced far in advance. Some bettors like to get their wagers in early. This could be because they see some favorable odds, or it may be because they like to plan ahead and not bet at the last minute.
However, not all cricket betting sites announce their odds at the same time. This is why we look for online bookmakers that do announce the odds way ahead of the event. So you'll have plenty of time to do your research, and you'll also be able to monitor the odds as they change and look for good betting opportunities. 
Cash out
Cash out is a feature many bettors look for when choosing a site. It's also something we consider when reviewing bookmakers. If you're not familiar, cash out is a feature that allows you to finish your bet before the event you've bet on has concluded. 
This means you could guarantee some winnings early, or cut your losses if things aren't going your way. We pick cricket betting sites with cash out to help you stay in control even after you've placed your wager.
Cricket bonuses
Virtually all sportsbooks offer betting bonuses like free bets as a way to attract customers. However, some bonuses are restricted to certain sports. For example, a bookmaker may offer a risk free bet for hockey, but that's not much use if you only want to bet on cricket.
This is why we check the bonuses and promotions of the sportsbooks we review to ensure you can use them on cricket matches. This means you can enjoy generous offers like matched deposits, free bets and risk free bets.
We also evaluate the loyalty program of each betting site to ensure cricket bets count towards the rewards.
Top tips for finding the best cricket bookmaker for you
We've done the hard work and picked out the best cricket betting sites. However, you still need to pick the right one for you. Here's our advice for picking your perfect cricket bookmaker.
Are your preferred markets available?
All the cricket betting sites we feature offer a good range of markets, but they're not all exactly the same. This is true both in terms of the competitions offered and the bet types. For example, some cricket bookmakers offer a wider range of player betting options than other betting sites.
So, we recommend checking the markets available before signing up. Make sure you can bet on the competitions you're most interested in, particularly if they're not the main ones like the IPL. Also, make sure you'll be able to place the types of bets you want to, and check if live betting is available. 
Review the bonus offers and promotions
There's lots of variety when it comes to the bonuses offered by cricket bookmakers. Some bettors like to claim huge matched deposit offers, while others prefer risk free bets. Alternatively, you may prioritize good loyalty rewards over big sign up offers.
Whatever type of bonus or promo you like, we recommend comparing the offers of different bookies. Make sure you pay attention to the terms and conditions, particularly wagering requirements and minimum odds.
Check your preferred payment method is accepted
Virtually all betting sites accept debit/credit cards and wire transfer. However, there's a lot more variety when it comes to the likes of e-wallets PayPal, Neteller and Skrill, as well as other payment options like Paysafecard and PayNearMe.
Always make sure your preferred payment method is accepted before signing up to a bookmaker. The last thing you want is to create an account only to realize you can't deposit and withdraw in the way you want.
Conclusion - the best cricket betting sites
So there we have it, the best cricket betting sites available in the US. If you're a cricket enthusiast, there are many different cricket betting sites to choose from. To help you out, we've carefully reviewed each bookmaker to ensure it offers a good cricket experience. 
Remember, however, that you should still consider the pros and cons of each when picking one to bet with. This will help ensure you get the best online cricket betting experience possible. When doing this, remember that the cricket betting markets and bet types can vary from bookie to bookie, only certain sites offer cricket live streaming, and that you should check bonuses are eligible for cricket betting.