Betting with ecoPayz - Are online betting sites with ecoPayz a good option?
There are so many ways to fund your betting account in 2021 and ecoPayz is a relatively new player in the market that is fast becoming one of the most popular ways. 
So, we thought it would be a good idea to break down everything you need to know about what makes ecoPayz a great funding option for online sports and casino bettors.
An ever-increasing choice in how sports or casino players can fund their online accounts is undoubtedly good news but each funding method has its pros and cons. 
So, if you think ecoPayz might be the best option for you, why not check out our ultimate guide to everything ecoPayz.
How to start betting with ecoPayz?
Everything You Need To Know In 5 Easy Steps!
Open A ecoPayz Account
Register, create a ecoPayz account and add some money.
Visit Your Desired Sportsbook
Log in to your sports betting account and register the payment method
Access The Cashier Page
Go to the cashier/payments page and select ecoPayz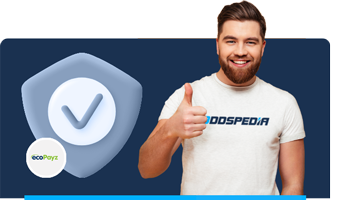 Deposit Funds
Enter the total amount of funds that you wish to deposit and click on the deposit button.
Confirm Deposit
Confirm that the funds have been added to your balance at the sportsbook and continue betting.
About ecoPayz - what makes it a good choice?
Third-party wallets are now commonplace in the deposit sections of betting websites, so what makes ecoPayz different?
Well, the best place to start is with some housekeeping on the different levels of ecoPayz accounts. You begin with a Classic account but then have an option to upgrade to Silver, Gold, Platinum or VIP level. We'll elaborate more on what is involved at each level a bit later.
Security is a big factor when it comes to choosing ecoPayz to fund your betting accounts and their advanced security features really do make a tangible difference. EcoPayz users love the fact that they never have to send their bank details to the bookmaker. 
A cutting-edge ecoPayz app allows users to freeze/unfreeze their card in an instant, which is a brilliant feature for anyone that thinks they might have lost their card. This really is a fraudster-busting feature and it's easy to see why ecoPayz promotes this facility so heavily. 
Also, ecoPayz keeps customer information and card details completely safe. These details are never exposed to your bookmaker or anyone that you send money to. 
The easy-to-use ecoPayz app means that customers have access to their account and funds via their mobile device from anywhere in the world – providing they have access to an internet signal. 
Another ecoPayz feature that makes it stand out from the crowd is that it allows for multiple accounts for individuals that want access to funds in different currencies. Every customer is allowed up to four cards, with eight different currencies available. Customers need to have upgraded to at least a Silver account in order to access this feature. 
Every ecoPayz customer in the US will get a contactless Mastercard which is effectively a debit card that can be used to buy items online, in-store or to withdraw cash from ATMs around the globe. There is a limit of $5,500 per day for online and offline purchases. 
However, cash withdrawals are not free, unlike some third-party funding accounts. A fee of 2% is generally applied, so if you are withdrawing $300, you will pay $306, plus any charge the ATM operator may apply. Customers can withdraw up to $750 a day from an ATM. 
Options are plentiful when it comes to funding your ecoPayz account. Most commonly, ecoPayz users fund their accounts via transfer from a bank account or via a debit or credit card. Your ecoPayz account can then be used as an alternative banking facility, allowing you to send and receive money to any other bank account in the world, although this facility is only available to Silver account (or higher) holders.
There are, however, fees involved, whatever account level you are at, although registration is free. 
Transfers from the bank account to ecoPayz are subject to charges of 0-7%. For credit card deposits it is 1.69%-6% plus a $0.25 flat fee. With this in mind, players that tend to stake on the smaller side would benefit from less frequent but larger deposits otherwise the fees will build up and eat into your stakes. 
If you want to be able to withdraw from your ecoPayz account, you need to be at Silver account level and have been through the verification process, which is all very straightforward. Fees per transaction range from $5 to $10 which is not great and that is exasperated further by the fact that some bookmakers charge an additional fee for withdrawals, which they claim is purely administrative. Effectively, though, it is an underhand way of discouraging players from withdrawing funds. 
How to use ecoPayz for betting
How to open an ecoPayz account
Opening an ecoPayz account is super easy and completely free. Simply go to the ecoPayz homepage and select the sign-up option in the top right corner. 
You will need to fill in the account information form which includes details such as an address, date of birth and mobile phone number. You will also be asked to verify your email address. 
Approval is normally instant and your PlayPlus account to your existing casino player account. From that moment on, you are free to load up your account and head into the games room. However, if you want to enjoy all the benefits of ecoPayz and remove all restrictions, it is important to fully verify your account ASAP. The verification process is straightforward and will result in the account being fully functional within 24 hours.
You will receive your ecoPayz card in the post, usually within a week to 10 days, along with a PIN number, which will enable you to access funds via an ATM or in-store.
How to deposit funds onto you PlayPlus account
Most casino and sports players will be familiar with e-wallets by now. They are easy to use, whether it be via a mobile app or a web page, and money can either be deposited or withdrawn within seconds.
Here is our simple step-by-step guide on how to depositing into your betting account from ecoPayz:
Log in to your bookmaker of choice
Look for the 'Cashier' or 'Deposit' button
Select ecoPayz as your payment method
Insert the amount you wish to deposit
Enter your ecoPayz account details
Complete your deposit
How to withdraw funds from your sportsbook account
Withdrawals can either be done to your registered debit card or to a bank account, although that account must first have been linked to from your profile section of the ecoPayz app or website. You can only link to a bank account that is registered in your own name. 
Here is our simple step-by-step guide to withdrawing money from your sportsbook account:
Log in to your betting site account
Click the 'Cashier' or 'Withdraw' button
Insert the amount you wish to withdraw
Select ecoPayz as your withdrawal method
Enter your ecoPayz account details
Which countries accept online betting with ecoPayz?
EcoPayz is available in over 150 countries around the world and is growing in popularity among players across the US.
The issue is that not every sports betting site facilitates ecoPayz, indeed many don't. However, if you have a specific sportsbook in mind, head to that bookmaker's review page on Oddspedia and you can get a full rundown of exactly which payment types are used. 
The best online betting sites that accept ecoPayz
Every sports and casino player is different. If you are a big NBA or NFL sports bettor that loves the regular action and wants to be able to live stream games from a mobile device while on the move, then sportsbooks like 888sport could be ideal. 
Firstly, they accept ecoPayz as a payment method. 888sport are also renowned for their live stream offering as well as a creative bonus program and amazing customer support, something that shouldn't be undervalued.
William Hill is another great sportsbook that accepts ecoPayz. 'Hills' are one of the oldest bookmakers from the UK and they bring a wealth of experience and know-how to the US sports betting market. What does that mean for customers? Well, their coverage is unrivalled. Unlike some of the top US-based sportsbook operators, Hills cover almost every sporting event going. If you want to bet in-play on a Chinese Super League soccer game, you can do that with Hills. 
EcoPayz betting bonus
Huge welcome bonuses are being used to lure potential players in by the big casino and sportsbook operators but ecoPayz account holders need to do their own due diligence in terms of the bonus Terms and Conditions. New customers will often be asked to turn over the bonus up to 50 times, which means you have little chance of seeing any of that money. There will also be a 'minimum odds' criteria, so you won't be able to buy money by sticking your bonus on a 1.2 shot. 
The best bonuses are the ones that only require being turned over once. After that, the money is in your account as cash, meaning you have the option to withdraw via your ecoPayz wallet if you so wish. 
Unlike many e-wallet operators, EcoPayz operates its own eWO Bonus Program which provides a lot of benefits. Once upgraded to gold VIP level, the user is then eligible for monthly bonuses of 0.5-0.65%.
Gold VIP level customers will have access to the highest transfer and withdrawal limits and lower fees.
Besides that, they will benefit from higher priority customer support, which should ensure issues are dealt with much faster than they ordinarily would. 
EcoPayz Cards FAQs
What is the difference between ecoPayz and PayPal?
EcoPayz is entirely prepaid, meaning you cannot spend what is not in your account. PayPal accounts have linked bank accounts so if there is not enough money to fund a transaction in the PayPal account, it will automatically redirect to the primary bank account to collect the funds. 
There are more fees involved with ecoPayz and they are less established but apart from that, they are very similar in terms of functionality. 
Why has my eco card payment/withdrawal been declined?
There are a number of possible reasons a payment could be rejected but these are the most common:
There is not enough money in the account to process the transaction.
You have exceeded one or more limits.
The wrong pin code has been used three times. Once this has occurred, the user must contact ecoPayz customer services to get the card unlocked.
The merchant that you are trying to transact with does not accept MasterCard payments.  
What is an ecoVirtualcard?
For a small fee (around $2), users can create a virtual card that is directly linked to the ecoPayz account – this is known as an ecoVirtualcard. These are single-use cards so will automatically be removed once a transaction has been completed. This helps to maintain a high level of account security because it essentially ensures that the finds cannot be stolen or lost.
Conclusion: Finding good bookmakers that accept ecoPayz
Finding the right online bookmaker isn't as easy as it looks so we've made the process a little easier by listing all the accepted payment types of the major online bookmakers. You can find this under the 'Bookies' menu option in the top right corner of the homepage. It is now easier than ever to check if the sportsbook or casino you like accepts ecoPayz. 
The downside is that EcoPayz is not as established as other big players in the e-wallet market like PayPal, Skill and PlayPlus, meaning it isn't as easy to find a really good bookmaker that facilitates such a payment method.
The list is growing, with the likes of William Hill and Betway leading the way with their new sportsbooks but many of the established US-based operators, like BetMGM, still don't allow for ecoPayz use. 
The great thing about the likes of William Hill is that their coverage is second to none and you still get all the great features like live streaming, cash-out facility and bet builders. EcoPayz account holders will also be able to access loyalty bonus schemes and regular bonus offers. 
Don't forget, once you do find a good sportsbook that accepts ecoPayz, make sure you check out the Terms and Conditions of the welcome bonus. Don't be drawn in by huge welcome bonuses because many have huge turnover requirements.