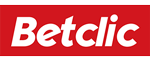 Betclic Review and Rating – Is Betclic Reliable?
Betclic is an online site and application for sports betting and playing games of chance. Mangas Gaming Malta Limited domiciled in Malta owns it. Betclic offers its services mainly in the European markets, in countries such as France and Poland, just to name a few.
If you fancy betting, you'll discover the enticing options and opportunities Betclic has in store for you in this article. This includes a wide variety of sports to choose from, different leagues from across the globe, and exciting casino games. Besides, once you've signed up, you get amazing offers, including free bets, enormous bonuses and so much more. Let's check it out.
Bonus Offer
Ranked
11
of 127 bookies
Mobile browser
Register
Download at App Store
Download at Google Play
Average Payouts
Ranked
8
of 57 bookies
Payout percentage represents the quality of odds a bookmaker offers. As a rule: the closer the payout percentage to 100%, the better odds you receive from a bookmaker!

Football
95.96%
Basketball
95.34%
Ice Hockey
94.82%
Country coverage
Ranked
3
of 127 bookies
ASM

BVT

IOT

CXR

CCK

DMA

FLK

PYF

ATF

GRL

HMD

IMN

+203
UMI

IRN

BGR

ISR

RUS

LVA

BEL

DNK

AUT

POL

THA

GRC

+21
Bank and limits
Ranked
77
of 127 bookies
EUR

USD

GBP

BRL

CZK

HUF

NOK

PLN

SEK
Live stream
Ranked
73
of 127 bookies
Deposit with one of those payment methods:
Ready To Watch!
In less than 3 Minutes
Features
Ranked
22
of 127 bookies
Cash Out
Live Stream
Casino
Date Founded

01 Jan 2005

Brand Owner

Betclic Everest (Gibraltar) Limited

World Market Share

-

Alexa Ranking

-

HQ Country

Gibraltar

HQ Address

57-63 Line Wall Road GIBRALTAR GX11 1AA
Betclic Expert review from Oddspedia
Betclic is a great site with cool features; from the outset, it has a welcoming, warm look and feel, which is good for a betting site. Then you get to the registration process; this part is a breeze as some of the prompts you get are hilarious and contain emojis.
Furthermore, only basic information is required. Before you finish, you get to choose the currency you are most comfortable with. I found this to be particularly helpful as it doesn't come to bit me later when making payments.
The user interface is simple and efficient. Besides, it is free from misplaced and tedious ads that clatter most betting sites. This makes navigation a walk in the park, allowing you to place your selected bets and games effortlessly. Accessing the various services offered in the site is also very easy since all the major tabs are fixed on the current page.
You can get to any service, live bet, casino games, and regular bets, from this page, with relative ease.
To deposit funds is also easy. Betclic always has a prompt at the top of the home page that allows you to deposit from Visa and Skrill. After you deposit and place your first bet, you will then get to collect your welcome bonus. You can place your bets in singles, multiples (where you combine two) and system (where you combine three).
Whether you are getting a betting account as a first-timer or are an avid gambler, Betclic is sure to make your experience easy and worthwhile.
Account registration and verification
Betclic offers a straightforward signup process. Betclic requests your two names separately, accompanied by hilarious emojis, then you get to pick a cool user name of your choice.
After this step, you are required to supply your email address and phone number for verification. The next details concern your location: address, postal code, city and country of residence. You then set your password with the usual security guidelines: a capital letter, small letter, number and a minimum of eight characters.
Finally, you pick the currency of your choice, and you are good to go.
Markets and Odds
Betclic offers betting opportunities for a plethora of sporting events – a total of thirty-one different sporting activities ranging from football to water polo. It also features all top competitions such as the UEFA Champions League, UEFA Nations league, friendly internationals, French Ligue 1, English Premier League and Dutch Eredivisie.
These options, combined with the ability to place multiple bets, give you a powerful leveraging capacity. Of course, the issue of odds automatically comes to play. As expected, Betclic regularly offers higher odds than most competitors.
Live betting, live streaming & cash out
Betclic allows live betting on all the games it offers, with a live update on the status of the odds. Betclic's cashback policy comes in handy especially to first time users. For instance, if you stake a bet of up to 55 Euros on at least three possible outcomes and win, then you can collect your prize. However, if you lose your bet, Betclic will return your stake straight away, ensuring you don't lose your money.
The other cash out feature allows any user to pull out their funds before the end of the game. It can work even before the game starts if you get the fright, though a transaction fee is normally charged.
Also, cashing out is subject to the current status of the game. If your pick is leading, the amount you get to cash out increases. Another existing feature allows you to cash out just part of your stake and leave the rest at play until your account is about 2 Euros.
To cash out, just tap the Cash Out logo, and that's it. Betclic offers live streaming for most EU countries except for the UK. You can now watch live broadcasts as well as all French games. You can access live streaming by clicking the 'Live In' tab at the site.
Licences and coverage
The British Gambling Commission licences Betclic to do business in the UK. Under this licence, any UK resident aged 18 and over can open an account legally. For a non-resident, you will need to contact their customer care service to check if a similar licence covers your country.
For the rest of Europe, Betclic has a licence of operation since it is registered in Malta. The betting site holds a licence from the Malta Gaming Authority.
Regarding protecting your funds, Betclic works in cooperation with the two largest banks in Europe, Barclays and NatWest. This cements a formidable wall of financial security. As for your data, Betclic safeguards it in Dell servers, surrounded by the state-of-the-art Fortnet firewall and encrypted using the Thawte SSL encryption certificate.
Customer Support
This bookmaker site has great customer support. They have a live chat and a support team working from 8 am to 11 pm every day of the week. Besides, the waiting period for a response is almost non-existent.
You can also email them through their support address. They will respond within 24 hours. Also, there is a' Help' tab at the top right-hand corner of the site with a drop-down menu where you can access FAQs, registration issues, My account, My bets, Cash Out, Deposit and Withdrawal, Bonuses.
When the help is associated with team selection, Betclic has a massive inventory of statistics that can prove invaluable when making a selection, especially when it comes to leagues and teams alien to you.
Betclic Mobile - Android & iOS apps reviewed
With mobile gaming growing at an astronomical rate over the past few years, it has become a bare minimum to support a site on the three most popular platforms – mobile web, Android, and iOS. Betclic is one of the betting firms developing app and mobile web versions of its desktop site dedicated to providing betting opportunities in these platforms.
On the mobile version of the site, Betclic has made it easy to sync up with browsers in your devices. All you need is type the URL in your browser. You will be redirected to the mobile version automatically.
The look and feel of the mobile version resemble the desktop version. You should glide through without any complications.
Mobile browser
Register
Download at App Store
Download at Google Play
Mobile Version - How does it perform?
The user interface's overall theme and design are appealing to the eye, with the colors toned, not to course unwanted distractions. The user is also credited with the desktop version options' full functionality, such as many casino games, a live casino lobby with live dealers, a poker room, and all sports betting available in its markets.
Also, the functionality and availability of the 'sports', 'new', 'my bets', 'top bets', and 'casino' tabs is enviable, as they are located at the bottom of the screen. Other important tabs like 'promotions' and 'bonuses' are also easy to find.
Betclic also has a cart icon that directly takes you to your bets from the homepage. This makes the overall navigation and operation quite enjoyable.
Android App - How to download APK?
The Betclic Android app allows you to bet before an event. You can also bet as the event takes place via in-play betting. The Android app also grants you full access to the latest and most popular casino games.
The APK download procedure is as follows: first, using your mobile browser, visit the Betclic site (www.betclic.com) because Google Play Store regulations do not allow betting apps. From the site's main page, click on the 'Mobile Options' tab. This will redirect you to the page with the download links. From the options, click on the 'Download for Android' tab to receive the .apk file on your device.
Once downloaded, go to 'settings' on your device, tap on the 'security' tab, and enable the 'allow installation from unknown sources' option to circumvent device restrictions. Next, go back to the downloaded file and install it. Now you are ready to go.
iOS App - How to download on an Apple device?
Like Android, Betclic has a downloadable app for clients using Apple's mobile devices, with all the other platform's impressive features. Some additional features in both platforms include casino cost-free play mode. This allows you to try out different online casino video games in the entire app without incurring any charges.
This feature can come in handy when trying out new games that haven't gained ground yet. It also offers the Oriental Handicap View, which grants access to Asian handicap playing markets.
The only difference between the apps is that iOS users can directly download the app from the Apple app store. The download procedure is as follows: first, go to the Apple app store from your device, search for the Betclic app. Once the search returns, tap on it to download and install. Once done, you are ready to play.
HOW TO DOWNLOAD AND INSTALL
Deposit with one of those payment methods:
Ready To Watch!
In less than 3 Minutes
FAQ
How to close my Betclic account?
It is possible to close your account via the website. Besides, Betclic allows you to put in a request for the support team to close it for you.
Also, by law, Betclic reserves the right to close your account with immediate effect. However, they can do this only if they suspect you have committed or aided someone else to commit fraud.
Does Betclic offer bet insurance?
Betclic through Acca insurance only covers up to 50 Euros to first-time users and only on qualifying bets; this means that the bet is a pre-live multiple bet of at least 5 selections. Each selection must be on the 90-minute Match Result market.
How to withdraw money from Betclic ?
To withdraw cash from Betclic, you first log into your account, click/tap the 'withdraw' button in the upper right corner.
Next, select the option you used when depositing funds, either Visa, Skrill or Neteller, as it is the same for withdrawal.
The entire process for both platforms requires at least a few hours to a day to process your order.
Can I cancel my bet at Betclic ?
If the bet has been validated, then cancellation is prohibited. However, for eligible bets (bets still in play), you are at liberty to request a 'Cash Out' option. This option allows you to take most of your cash to mitigate potential losses or secure an early win.

How do I create accumulator bets at Betclic ?

 Placing an accumulator at Betclic is easy. Once you have made more than 5 selections, you will get the options to do so via a cart icon on the screen.
Do Not Find The Answer To Your Question?