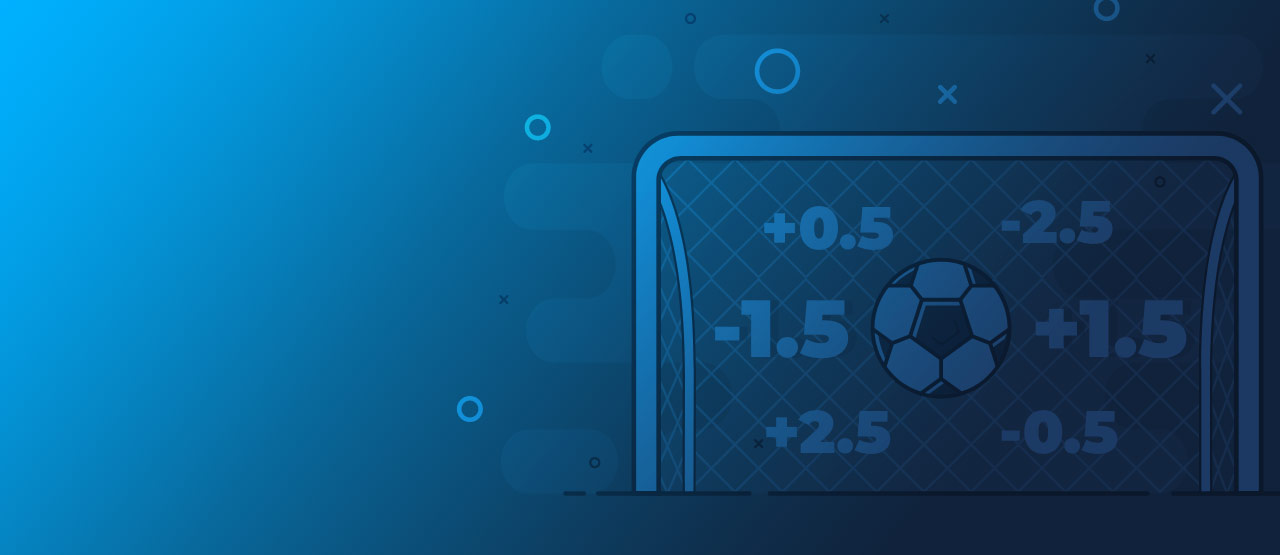 27 Oct 2021
Asian Handicap Betting Guide
Asian handicap betting is a well-known betting system. If you are looking for an alternative to 1x2 betting, then you're in the right place.
As the name suggests, this system originated in Asia. Today, it is mostly used for betting on soccer. It's an interesting betting system that requires some studying at first. Read our latest guide to find out more.
Do you like the Asian Handicap betting market?
How Asian handicap betting works
Our guide, Asian handicap explained, will take you through the ins-and-outs of this popular betting system. If you are interested in Asian handicap soccer betting, then look no further. Asian handicap betting can come across as being rather complicated. Once you take the time to understand how it works, you'll gain a new outlook on betting on sports.
This type of betting system aims to level the playing field in any fixture by creating a handicap.
In a fixture where there is a clear favorite, the idea is to handicap the team. For example, an MLS match between New England and Toronto will see the former being handicapped. With normal markets, the major difference in skill will leave little value in bets on New England.
For example, New England will start the game with a handicap of -1.5. If you back New England to win, the score will need to be 2-0, or more, to New England. If they only win by one goal, then your bet will lose. Alternatively, Toronto will receive a positive handicap of +1.5. If they only lose by one goal, then a wager backing them will be successful. So, what are the benefits of this betting system? Let's take a look…
The History of Asian Handicap
The basic concept behind this kind of betting has been around for a long time where it was previously known as 'hang cheng' betting. It was common in many Asian countries ranging from China to Indonesia. However Asian handicap betting only took off in the West relatively recently but it looks to be gaining in popularity all over the world.
Asian Handicapping Eliminates the Draw
Asian handicap betting removes the chance of a draw. This leads to a 50/50 chance of either side walking away the 'winner'. It also improves the odds that bookmakers put forward on such markets. With Asian handicap betting, you will find that it enables you to back the underdog and still win, even if the team loses the actual game. Another advantage of this system is that it reduces the amount of outcomes in an accumulator. You won't have to concern yourself with games that are tied. In this instance, it increases your chances of success across the board.
Asian Handicap Lines - Different Types Explained
Handicap Half Lines (0.5 / 1.5)
This is where a sportsbook aims to level the playing field by putting one team at a half points/goal advantage or disadvantage. Let's imagine that you wanted to bet on a World Cup soccer match between Brazil and the USA. Brazil would ordinarily be the favorites and you might be able to bet on them with a -1.5 goals handicap. As a result, Brazil would have to score at least two more goals than the USA for you to win your bet. The longer odds generated by the handicap would mean that you get better returns should you win this bet.
Conversely, as they were the underdogs, the USA would be given a +1.5 goals advantage. This means that Brazil could win 1-0 or there could be a goalless draw and the USA would still be seen as 'winners' in the terms of the bet.
Yes:
Bet ON Home team +0.5 Handicap
No:
Bet AGAINST Home team +0.5 Handicap
Handicap Quarter Lines (0.25 / 0.75)
This kind of handicap bet takes account of bets where you could get half of your stake refunded. So if you bet on a team with a -0.25 handicap and they won by one or more, you'd win your bet. If the team drew, you'd lose half your bet, and if the team lost you'd lose your whole stake.
If you bet on a team with a -0.75 handicap and they won by two goals or more, you'd win your bet. But if the team won by a single goal, you'd only win half the amount, whereas a draw or loss would result in you losing your stake.
Alternative Asian handicap markets explained
Draw No Bet vs Asian Handicap
A draw no bet is simply where you get the choice to bet on either the home team or away team to win a soccer match. The draw will be removed as a betting option, and if a draw occurs, then you'll get your stake returned in full. There is no effort made to handicap either team like you'd get with an Asian handicap bet.

Asian Handicap vs European Handicap
There are two major differences between Asian and European handicaps. The first thing is that European handicaps will include the draw whereas draws are excluded from the Asian handicap betting options. Secondly, European handicaps deal in whole numbers, whereas Asian handicaps will include whole numbers, halves and quarters. Beyond these two differences, they both offer you a great way to hunt down extra value with your sports bets.

What is the difference between the Asian Handicap and Double Chance?
Double chance betting means that you are betting that a sporting encounter has one of two possible outcomes. There are three kinds of double chance betting options:
Home win or a draw
Home win or away win
Away win or a draw
As such, double chance betting makes it much easier to win a sports bet although this comes at the cost of shorter odds. This shows that double chance betting differs from Asian handicap betting as it aims to help you win more bets rather than extract better value.





Get up to €200 Welcome Bonus!
Asian handicap betting - tips and tricks to win
It's important that you take the time to understand Asian handicap betting. Once you are able to analyze handicaps with a cursory glance, then you'll be able to bet with confidence and freedom.
If you follow soccer passionately, then Asian handicap betting is for you. It is vital that you are in the know on current form. Current form will dictate how one team matches up against another team. It will enable you to assess handicaps and bet on those which best represent the current form of any one team. Simply betting on a team based on past performances might lead you astray. Historically speaking, it would be wise to back a team like Manchester United in the Premier League. However, Brighton is playing well at present. Thus, a handicap of +1.5 to Brighton is more realistic than a handicap of +3 (due to current form).
It is also important that you take the time to address any issues surrounding injuries. A last-minute injury will suddenly change the potential outcome of a game. If a key player is excluded, then you might have the chance to back the other team and capitalize on favorable odds in the process. We recommend that you read the news as much as possible.
Find a bookmaker that has diverse markets for Asian handicaps. Knowing the Asian handicap meaning is one thing. Finding a bookmaker is yet another step in the process of being able to bet. You should take the time to read our latest reviews to find a platform which has up-to-date soccer markets, stats, and favorable Asian handicap betting options. In this day and age, there are plenty of platforms out there. It's simply a matter of finding the best possible site for you.
Conclusion - Asian handicap explained
We hope that you have a better understanding of Asian handicap betting. If you are less inclined to bet on fixtures with clear favorites, then this betting system will work well. It enables you to bet on a market where the playing field has been levelled to a great extent. Once you understand how the numbers work, Asian handicaps are actually easy to assess.
Make sure that you always double-check your bets before placing them. It's important that you are sure you have backed the correct team with a handicap that seems realistic to you. At Oddspedia, we have included a raft of guides. In addition to Asian handicap explained, there are plenty of betting resources at your disposal. We wish you all the best and hope to see you soon.
Pros vs Cons
Asian handicap betting levels the playing field. This is great news for those looking to bet on sporting fixtures where two teams have major differences in ability.;
It removes the chance of a tie and increases the chances of winning. You have a 50/50 chance of betting on the correct outcome.;
You can still win your bet, even if the team you backed ends up losing the fixture. All that you need to do is ensure that you bet on the right handicap and team. The actual result, win or lose, is less important.;
It's slightly complex at first. The existence of handicaps makes for slightly more difficult reading. There is a chance of mixing up the handicaps and betting on the wrong team.;
Asian handicaps will level the playing field and reduce potential payouts on underdogs. If you are after higher possible winnings, then backing an underdog in a 1x2 market might be a better idea.;
Asian Handicap FAQ: You asked, We Answered
Our guide to Asian handicap explained wouldn't be complete without our experts answering some questions. Below, you will find general questions pertaining to Asian handicap betting.
❔ Is Asian handicap soccer betting worth it?
You will come to find that Asian handicap is widely-used for soccer betting. It's a great way to bet on teams by removing the difference in factors relating to skill-set.

🏆 What does a minus sign (-) mean?
You will come to find that there are two signs in Asian handicap betting. The minus sign refers to a team that is the perceived favorite in any fixture. The minus sign is the handicap that has been put on the favorite.

💶 How do I know who the underdog is with Asian handicap betting?
A team that is the underdog in any fixture will receive a positive handicap. Thus, you'll find that there is a plus sign (+) next to the underdog in any given fixture. For instance, Leeds United will receive a +2 handicap against Chelsea.

💳 Can I bet on a tie with Asian handicaps?
Unlike 1x2 betting markets, you will not be able to bet on a tie. Asian handicap markets remove this outcome. Thus, you have a better chance of calling the correct outcome. The chances of one outcome occurring moves far closer to 50%.

🤔 Does Asian handicap betting apply to football?
It's important to understand handicap betting football explained as much as possible. Asian handicaps are soccer's equivalent to point spreads in the NFL. Bear in mind that Asian handicaps are predominantly used for online soccer betting.