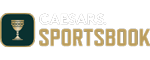 USA players are accepted
Visit Site

Caesars Sportsbook review – Experts and user ratings: Is Caesars safe?
This review of Caesars Sportsbook focuses on the features beyond its highly lucrative welcome bonus, which includes the impressive $1,000 first wager insurance, which you can claim with the Caesars promo code OPBONUS1000. Caesars delivers an outstanding all-encompassing experience, featuring a stellar app, competitive odds, frequent promotions, giveaways, and more.
Bonus Offer
Number 1
of all reviewed sportsbooks!
Mobile and app
Number 1
of all reviewed sportsbooks!
Mobile browser

Register

Download at App Store

Download at Google Play
Average Payouts
Number 1
of all reviewed sportsbooks!
Payout percentage represents the quality of odds a sportsbook offers. As a rule: the closer the payout percentage to 100%, the better odds you receive from a sportsbook!
Average

of 13 sportsbooks

94.13%
Football

95.57%

Basketball

94.98%

Hockey

95.19%
State coverage
Ranked
4
out of 13 bookies in USA
USA players are accepted
Arizona

Colorado

Illinois

Indiana

Iowa

Kansas

Kentucky

Louisiana

Maryland

Massachusetts

Michigan

New Jersey

+7
Alabama

Alaska

Arkansas

California

Connecticut

Delaware

Florida

Georgia

Hawaii

Idaho

Maine

Minnesota

+19
Bank and limits
Ranked
4
out of 13 bookies in USA
USD
Features
Ranked
9
out of 13 bookies in USA
Cash Out
Customer care
Ranked
7
out of 13 bookies in USA
Live chat

Yes

Email

NJSupport@CaesarsCasino.com
Email

NJSupport@CaesarsCasino.com

Live chat

Yes
Caesars Details
Date Founded
01 Jan 2013
Brand Owner
Caesars Interactive Entertainment, Inc
Brand CEO
-
Employees
-
HQ Country
United States
HQ Address
Caesars Atlantic City, 2100 Pacific Avenue Atlantic City, NJ 08401
An expert's option on Caesars Sportsbook
Caesars Sportsbook continues to be a highly prestigious sportsbook throughout the online sports betting industry. With tons of markets, live betting options, and a sleek and highly efficient mobile betting app, Caesars elevates sports betting for all.
You might be drawn in by the fantastic welcome bonus that gives you a bonus bet up to $1,000 if your first qualifying wager doesn't win. However, there is a ton of ongoing promotions users can claim once they sign up to Caesars Sportsbook. It is, without doubt, one of the best options out there in the online sports betting market.
In addition to the quality of its product, Caesars stands out for its partnerships with major publications, sports leagues, and a few professional teams like the New Orleans Saints and New York Mets. If that wasn't already enough, the Washington Wizards have a 700-square-foot Caesars Sportsbook betting space at Capital One Area.
If the player's Qualifying Wager is graded as a Loss by Caesars, the Participant will earn a one-time Bonus Bet token equal to the lessor of (1) the full value of the Qualifying Wager or (2) $1,000 (the "Bonus Bet"). Must be 21+ years of age and physically present in the U.S. T&Cs apply.
Caesars Sportsbook: Key information
| | |
| --- | --- |
| Caesars Sportsbook rating | 5/5 |
| Caesars Sportsbook promo code | OPBONUS1000 |
| Caesars Sportsbook welcome bonus | $1,000 First Bet on Caesars |
| Payout speed | Instant (depending on the payment method) |
| Legal states | 20 |
| Mobile App | Available on both Android and iOS |
| Live betting | Yes |
| Live streaming | Yes |
Caesars Sportsbook betting coverage
If the player's Qualifying Wager is graded as a Loss by Caesars, the Participant will earn a one-time Bonus Bet token equal to the lessor of (1) the full value of the Qualifying Wager or (2) $1,000 (the "Bonus Bet"). Must be 21+ years of age and physically present in the U.S. T&Cs apply.
What sports can you bet on at Caesars Sportsbook?
Caesars allows for wagers on popular sports such as the NFL, NBA, MLB and NHL. Caesars does an exceptional job of offering a variety of leagues throughout different sports. For instance Caesars is not only one of the best NBA betting sites, but it also offers great odds for the NCAAB, WNBA, Chinese Basketball Association, and other various leagues played throughout the world.
You might find that some of the more niche leagues come with fewer bet types than others but standard wagering types such as spreads, moneylines, and totals are almost always available to bet on these sports and leagues.
What markets are available at Caesars Sportsbook?
In addition to offering main markets for games across a wide selection of competitions and leagues at Caesars Sportsbook, users will also be able to find unique and interesting options such as alternative spread and totals, futures, prop bets for individual games, and more season-long props for specific teams or players.
The more popular the league, the more options you'll have across these types of markets. You can also combine bets across these different markets into one wager thanks to Caesars Sportsbook's parlay offering.
What types of bet can you place at Caesars Sportsbook?
If it's diversity with your sports bets you're looking for then look no further. Caesars offers all traditional bet types such as moneyline, point spread, and totals. However, some of the newer bet types are offered using the online sportsbook.
New users can expect parlay betting options, which allows users to stack multiple bets together to increase potential payout. There's also future bets, prop bets, round robins, and live betting options for customers.
A look at the Caesars Sportsbook live betting experience
The live betting (in-play betting) features at Caesars Sportsbook are on par with all of the biggest names in the industry. There is a huge selection of sports, markets, and bet types. The odds are constantly updating but you will rarely find yourself facing issues with bet placement delays that can see you miss out on placing the bet you want.
Caesars excels with live betting across all type of sports, whether its the in between pitches for the MLB or during a live play in the NFL. This is why the sportsbook is seen as one of the best MLB betting sites and best NFL betting sites for these sports in particular.
Reviews (0)
Sort by:
Caesars Sportsbook mobile app review
From the moment I logged in and placed my first bet on the Caesars Sportsbook app, I knew it was going to be my go-to choice. It's hard to quantify how important ease of use is, but everything about the Caesars app is so seamless.
The design is classy without feeling like too much, the sports, leagues, and markets are all well-organized. The team has put a lot into developing the app and several new iterations have gone live (one in 2022 and one in October of 2023) that have improved functionality and massively reduced the glitches that some users reported issues with.
All promos are conveniently located on the bottom row for easy access and secondary sports are also accessible via the "All Sports" tab. For instance, the WNBA is still a growing league and isn't one of the available sport icons at the top of the app but using the "All Sports" tab and clicking on "Basketball" prompts me to see all of the WNBA action.
The Caesars Sportsbook mobile app is available for download on all iOS and Android devices and has currently scored an impressive 4.6 and 4.3 app store rating respectively (from 75,000+ reviews).
Visit the app store or the bookmaker's mobile site and download the app.
Download at App Store
Download at Google Play
2
Register with our promo code
Register at the sportsbook with our special $1000 Free Bet Coupon
Deposit with one of these payment methods:
Ready to bet
In Less Than 3 Minutes
How to sign up to Caesars Sportsbook
Registering for Caesars Sportsbook is as simple as many of its top competitors in the industry. The sign-up process is straightforward and only requires a few minutes to compete if you have all of the necessary information handy.
1. Enter your details
During the initial steps, you'll provide your name, address, email address, date of birth, phone number, and password. Only the basic info is required at this stage but providing a copy of a government-issued ID is a crucial part of the sign-up process so it's best to have that ready to go as well.
2. Add the right Caesars Sportsbook promo code
When you are working through the sign-up process, you will see a box to enter your promo code. This is where you must enter the code OPBONUS1000. If you don't enter this promo code, you will not get the first bet insurance to get up to $1,000 in bones bets if that bet loses.
3. Verify your Caesars Sportsbook account
Upon completion of the sign-up form, Caesars may ask for additional verification to allow you to start depositing funds and wager with Caesars online. This could be just confirming your location and email, but the sportsbook might also ask for additional proof of ID. This is completely normal and more for your security than anything else. Once its done, you won't have to do it again.
4. Deposit money and place your first wager
Once you're logged in with your new Caesars Sportsbook account, you can choose your preferred deposit method (a quick link is available in the top right hand corner, or you can visit the payments section under My Account). You can then place your first bet with the sportsbook. Remember if you have used the promo code OPBONUS1000 then you are covered for $1,000 if that first bet loses.
If the player's Qualifying Wager is graded as a Loss by Caesars, the Participant will earn a one-time Bonus Bet token equal to the lessor of (1) the full value of the Qualifying Wager or (2) $1,000 (the "Bonus Bet"). Must be 21+ years of age and physically present in the U.S. T&Cs apply.
Caesars Sportsbook player protection and security
Caesars takes great pride in keeping its users' information secure and protected. Licenses in each jurisdiction that Caesars operates in are maintained and these licenses are in place for transparency for its customer. Personal and sensitive data are kept private through encryption technology that Caesars employs.
Unique authentication procedures during logins are another step Caesars Sportsbook takes to keep users' accounts secure. As standard practice for licensed sportsbooks within the US, Caesars is audited routinely to ensure certain regulatory requirements are maintained as well as third-party audits to confirm betting practices are fair and transparent for its customers.
Caesars has been a licensed sportsbook for many years and has stayed in business by maintaining high standards for player protection and support. Trust me, you don't keep and hold licenses from bodies like the Kentucky Horse Racing Commission, Massachusetts Gaming Commission, and Michigan Gaming Control Board without everything being above board.
Both new and experienced users should feel safe wagering on sports using Caesars Sportsbook. It doesn't matter if you're betting $10 a month or $10,000 a day, Caesars will always ensure it does everything possible to protect each and every one of its customers.
Caesars Sportsbook licensing: Where is Caesars available in the US?
Since PASPA was overturned and online gambling became legal again the in the United States, Caesars Sportsbook has really led the charge in bringing mobile betting to as many people as possible. The Caesars online sportsbook is now available in 20 different states, competing with DraftKings and FanDuel for the largest country coverage of any online sportsbook in the states.
Caesars Sportsbook reputation
Caesars Sportsbook probably holds the strongest reputation in the world of gambling. In fact, it's such a big brand that it has cultivated business relationships with more than two dozen NBA, NFL, and NHL teams. Their partnership with the New Orleans Saints even gives them rights to include naming the team's stadium. Other partners have even created a Caesars sportsbook section in their home arena, like the Washington Wizards at Capital One Area.
How does Oddspedia rate sportsbooks?
Oddspedia is all about detail when it comes to its sportsbook reviews. The criteria given is curated based on in-depth research into what all types of sports bettors are looking for. That's why the considerations range from the welcome offer for new customers, the odds value for more experience bettors, as well as market analysis across the pre-game and in-play offering.
The aim is to collaborate with betting experts like myself to carry out additional research that will complement the wealth of data Oddspedia has on the hundreds of sportsbooks it works with. This will then enable sports bettors around the world to find the perfect sportsbook for their needs.
Oddspedia's rating system guarantees fairness as the same criteria is applied to all sportsbooks in the US. This means the scoring and detailed assessment is completely transparent and gives sports bettors all the information they need to make the most informed decisions possible.
Caesars Sportsbook review conclusion
If it wasn't clear already, I'm a huge fan of Caesars Sportsbook and think Caesars Entertainment has produced a top-notch sports betting experience. Not only can you bet on your favorite teams in your favorite leagues but you can do so live, and you can parlay your favorite teams together to increase the payout if your wager wins.
Additionally, you're able to bet on these teams using a redesigned and highly effective mobile app that's incredibly improved since its launch. The most important feature that sets Caesars apart from the others is the $1,000 bonus bet you can get as a new customer. You'll get the $1,000 bonus bet by using the promo code OPBONUS1000 and if your first bet loses, your stake will be refunded up to $1,000.
If the player's Qualifying Wager is graded as a Loss by Caesars, the Participant will earn a one-time Bonus Bet token equal to the lessor of (1) the full value of the Qualifying Wager or (2) $1,000 (the "Bonus Bet"). Must be 21+ years of age and physically present in the U.S. T&Cs apply.
FAQ
Can Caesars Sportsbook be trusted?
Yes, Caesars Sportsbook can be trusted because of their reputable history within the entertainment industry even before they enabled sports wagering. Caesars is one of the most well-known sportsbooks across the legal sports betting and wagering industry. You can trust the Caesars online sportsbook to provide a tremendous sports betting experience and keep your sensitive information safe.
Is Caesars Sportsbook legit?
Yes, Caesars Sportsbook is legit because of its licenses and regulatory practices in each state at the local jurisdiction level. Caesars has done its part in making sure sports betting is fair, secure, and transparent. Caesars is also audited like all big businesses to ensure accountability and fair practices are being followed.
Can you win money at Caesars Sportsbook?
You can absolutely win money at Caesars Sportsbook! If you're able to complete the necessary sign up process, deposit funds, and select the right wager then there's a possibility that you're able to win money all in one day. Caesars makes it easy and accessible to place multiple wagers, even after you've found an edge in a specific bet type.
Does Caesars Sportsbook pay out?
Yes, Caesars Sportsbook does pay out. The Caesars online sportsbook also provides users with multiple options to withdraw funds from their bankroll to their bank account. PayPal, debit cards, and other online banking methods are all available to collect winnings when you're ready.
How fast does Caesars Sportsbook pay out?
Not only does Caesars Sportsbook pay out, they pay out quickly if you choose to withdraw your winnings with one of the faster withdrawal options. I've received withdrawals in less than five hours when I've used the debit card withdrawal method. Other withdrawal methods allow users to receive their money in just a few days; less than five hours is top speed in comparison to any sportsbook!
Do you have to pay taxes when you win at Caesars Sportsbook?
Paying taxes on winnings at Caesars Sportsbook or any other sportsbook will always rely on location. Locality trumps all when taxes become involved so the best answer is yes but only after winning certain thresholds of money. Again, check your local jurisdiction on tax requirements for more specifics.
Do Not Find The Answer To Your Question?
Sign up for the all new Oddspedia newsletter and the latest betting offers in your state
By submitting your email, you give us consent to contact you for marketing purposes: