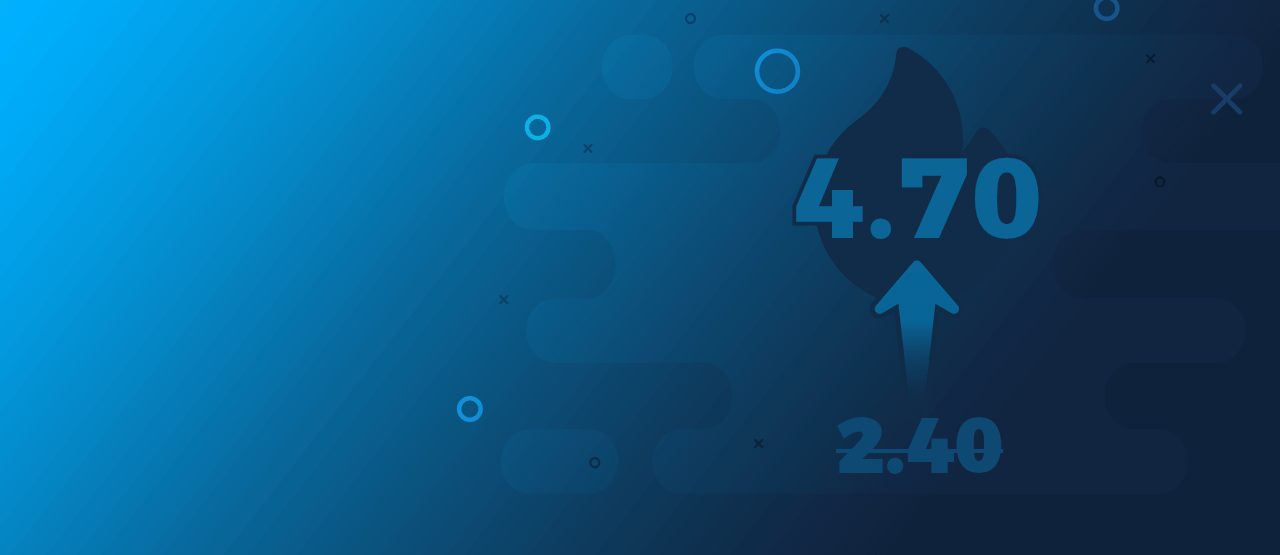 18 Aug 2022
Enhanced Odds Betting Guide: What Are Price Boosts and How to Use Them?
Enhanced odds, price boost, or odds boost have become popular in the online gambling scene. These odds are used to increase your payout in an instance where the profits would be less substantial otherwise. Throughout this read, you will learn about enhanced odds betting offers and how to use them, so keep reading.
Do you find this topic interesting?
What is an Odds Boost?
Enhanced odds are sportsbook promotions where the operator deliberately boosts the odds of select betting markets, making them more appealing. As a result, events with price boosts betting options attract bets from players who would otherwise consider other sportsbooks.
Over the years, bookmakers have used odds boosts to give value to clients allowing them to try their luck placing certain bets for a better payout. However, you should know that odds boost offers are not usually long-term, so you must take advantage of the bonus while still available.
Odds boosts are sportsbook promotions that feature better odds on specific markets.
Is There a Catch with Enhanced Odds?
Like any other type of promotion, enhanced odds often come with a catch, but this depends on your bookmaker:
Most sportsbooks offer enhanced odds to new customers, leaving out existing ones.

Online bookmakers often limit the amount of money you can wager when placing enhanced odds bets. This, in turn, limits your expected payout.

Most enhanced odds are not paid in free cash but rather in the form of a free bet which you cannot cash out but use to place bets online.
These aspects mean that you don't have too much freedom when using enhanced odds.
How to Use Enhanced Odds
Using boosted odds is simple whether the offer is associated with football markets or horse racing bet types. The first step is to log into your sportsbook and identify the markets which contain the enhanced odds offer. After that, do your research and add your desirable selection to the bet slip. Finish off by staking some cash while adhering to the betting rules of the promotion. If you are lucky enough to win, the operator will multiply the enhanced odds with your stake to get your winnings in free bets.
Enhanced Odds vs Daily Odds Boost
It is easy to confuse enhanced odds with boosted odds, so this section will set the record straight about the two.
First, enhanced odds offers are often designed for new players. What happens is that the operator provides new clients exaggerated super odds, for instance, 30.00 instead of the usual 1.50. However, the bookie goes an extra mile to limit the wager, so you may only be allowed to stake €1.00. On the other hand, daily odds boost involves the operator increasing the odds until a threshold, for example, 100% of the repayment, is reached.
Different Types of Odds Boosts
You should know that odds boost promotions come in different types. For instance, the offer may be in the form of enhanced ACCAs, where you only get to enjoy odds boosts if you place a bet on a combination of select betting markets. The advantage of enhanced ACCAs is that the payout is always significant. Another type of odds boost is a price match. This is often common when placing horse racing bets, and it entails the operator promising you a better price on markets than other bookies. Note that odds boosts may also come in daily price boosts, limited-time offers, and welcome offers. However, you should know that the format of the odds boosts usually depends on your sportsbook.
Which Bookmakers Offer Enhanced Odds?
Multiple bookmakers across the globe provide their clients with different enhanced odds betting offers. However, select bookies stand out due to their generous odds and suitable terms and conditions. With this in mind, you should check out bookmakers such as Betfair, William Hill, and Betway. Furthermore, consider 888sport. The sportsbook is popular for housing some of the best-enhanced odds for different sports. You should, however, make sure you are qualified to enjoy these promotions by going through the terms and conditions of the boosted odds before you consider the promotions.
Best Enhanced Odds Offers
Now that you know which bookmakers offer the best-enhanced odds, you need to find out what some of the best odds look like. Below is a table of top bookmakers with their current enhanced odds for the best understanding.
How To Properly Take Advantage Of Enhanced Odds And Price Boosts - Tips & Strategies
Price boosts and enhanced odds allow bettors to enjoy significant odds compared to regular odds. However, with some basic tips and tricks, you can take advantage of even the best-enhanced odds offers and end up with a better outcome. So far, here are some of the tips and tricks that you should apply:
Enhanced Odds as a Welcome Offer
By now, you should be aware that enhanced odds can come as welcome offers. Therefore, once you register for an account, make sure you meet the minimum requirements to enjoy the promotions. However, before opting for the offer, remember that the operator caps enhanced odds' wagering limits to a specific amount.

Find Bookmakers with Daily Odds Boosts
You need to make sure you find bookmakers with daily odds boosts. This will make you enjoy better odds on select markets every day, thereby increasing your chances of walking away with substantial payouts in case of a win. To identify bookies with daily odds boosts, check the sportsbook's lobby.

Evaluate Enhanced Odds Realistically - Classify the Probability of The Bet Correctly
Some operators are cunning when issuing out enhanced odds. This explains why you need to evaluate the promotions before adding enhanced bets on your bet slip. Some of the key aspects to look at including the probability of making correct predictions depending on the markets. Consider boosted odds on whose markets you are likely to place correct bets on.

Do Not Neglect Betting Analysis Despite Increased Odds
Always analyse your bets, even when dealing with increased odds. Doing extensive research allows you to find out more about the events, and with the insight, you can place proper bets. When doing analysis, make sure you confirm the form of both teams and their previous performance.

For Which Sports You Can Expect a Regular Price Boost?
Bookies offer price boosts on markets for different sports. However, the sport that stands out when it comes to enhanced odds promotion is football. The chances of finding a price boost from major football events are high. You can also find regularly increased odds on different American leagues such as NBA, NHL, and NFL. All you need to do is scrutinise the bookie that offers such events. Other sports with price boosts include horse racing and tennis, especially on events sourced from top tournaments like WTA and US Open.
Conclusion - How Profitable Are Enhanced Odds Bets
You should consider enhanced odds promotions whenever you want to enjoy boosted odds on select markets. However, you should also be aware that despite having the probability of making more money, the games don't always guarantee a profitable bet. But then, with the enhanced odds usage tips above, you can learn how to get the most out of price boost promo offers, especially if you are a new client. Even so, enhanced odds are highly recommended to punters. Therefore, make sure you claim the promo every time you have a chance.
Easy to activate.;
Guarantee better odds.;
Available in different markets.;
Can be used with multiple betting systems.;
Often brings about better payouts in case of a win.;
Come with maximum bet limits.;
Usually have strict terms.;
FAQ - Enhanced Odds and Daily Odds Boosts
❔

What Are Enhanced Odds?

Enhanced odds are promotions where clients get better odds than they would otherwise. It is a superb offer if you want to enjoy high payouts if you place a winning bet.

🏆

Should I Take Odds Boosts Offers?

Yes, you should take odds-boosted offers since they allow you to enjoy better prices on markets. However, first, go through the bonus terms and conditions to ensure the promos are suitable.

💶

What Terms Do Bookmakers Use on Their Sites for Enhanced Odds?

Most bookmakers only provide enhanced odds to new players and not existing customers. You may also get operators that cap winnings from the promotions. Lastly, some sportsbooks only allow a specific amount of money for the wager.

💳

Are Odds Boost Bets Profitable?

Odds boost bets are usually profitable since they allow players to enjoy better payouts. However, it helps if the odds boosts come with better terms and conditions.

🤔

Does it make sense to play system bets with improved odds?

Yes, it makes sense to place system bets with improved odds. One of the advantages of enhanced odds is that the promo works well with

different betting strategies

, one of them being system bets.
❔

Which Bookmakers Offer a Daily Odds Boost?

Numerous bookies offer a daily odds boost. However, you will get better daily odds book promotions on William Hill and 888sport. You should also check out Betfair sportsbook for such enhanced bets.

🏆

Do bookmakers completely give up their profit margin on Super Odds?

No, bookmakers don't completely give up their profit margins on Super odds. Most bookies always include profit margins to benefit from the bets placed by punters interested in the offers.

💶

Why Bookmakers Offer Enhanced Odds?

Bookmakers in the online gambling scene offer enhanced odds to players to make their sites more attractive. In short, they use the betting offer to attract new clients to the site.

💳

On Which Events Can I Bet with Enhanced Odds?

You can get enhanced odds on different fixtures, including football events, NHL matches, and basketball games. You can also find boosted odds on select tennis events, especially from top leagues like WTA.

🤔

Is There a Cash out Option for Price Boosts?

Yes, some markets with price boosts have the cash-out feature. As a result, you can cash out your bet at an opportune moment and enjoy an even better payout.

❔

Which Bookmakers Have the Most Enhanced Odds Offers?

A good number of bookies have great enhanced odds offers. However, if you want the best-enhanced odds, you should check out Betway, William Hill, Betfair, and 888sport.

🏆

Can I Use Price Boosts for Matched Betting?

Yes, you can use price boosts for matched betting. Price boosts are considered the best since they don't limit you on the kind of bets you can place. All you need to do is figure out how to apply them effectively.

This article was written by our team of betting experts, any contributing references are noted below.