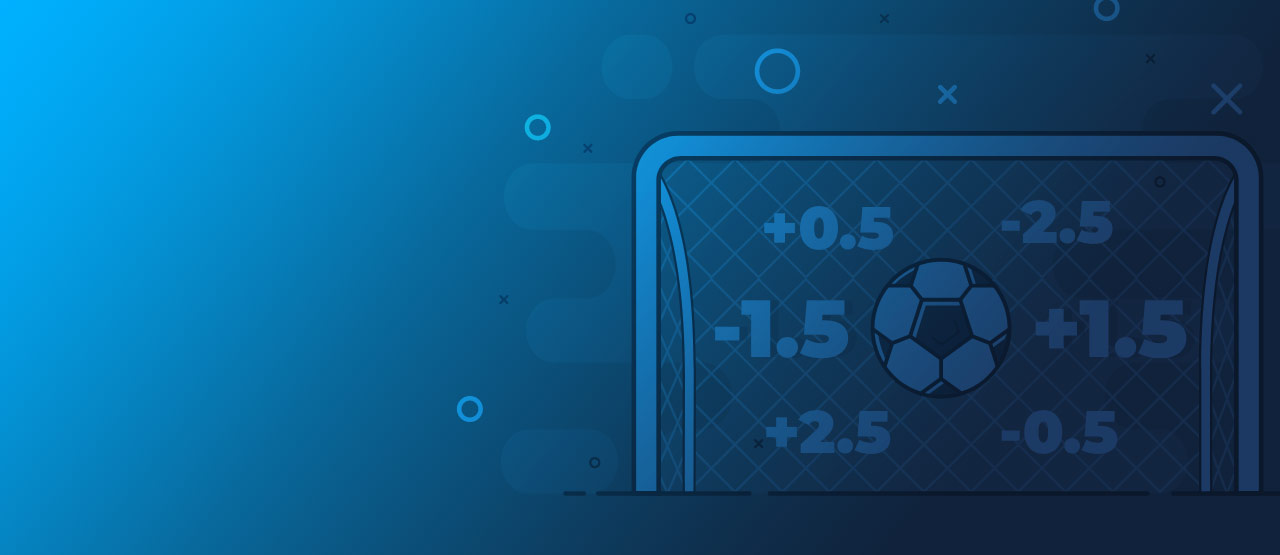 08 Feb 2023
Asian Handicap Betting Explained : AH Guide and Tips
Asian Handicap, also known as AH is a type of betting that gives one of the teams an advantage over the other team. AH offers the underdog team an edge while removing the draw option for punters. This type of betting is mostly used in Soccer around the world. In this article, you will find all information you need to know about Asian Handicap betting.
Do you find this topic interesting?
What Is Asian Handicap and How Does It Work?
Asian Handicap removes the possibility of a match ending in a draw. By choosing the right odds, punters stand a better chance to win. In AH, one team is given the advantage because this type of betting involves giving or taking one of the competitor's advantages. This ensures that betting remains competitive even in competitions that have easily predictable outcomes. AH is a straightforward system. The bookmaker creates a handicap or line that gives an equal chance to both teams. Therefore, it's up to the bettor to use the right Asian Handicap strategy as explained below.
The bookmaker creates a handicap or line that gives equal chance to both teams.
The History of Asian Handicap
Asian Handicap originated in Indonesia and the system has gained a lot of popularity in the betting industry. The name Asian Handicap is based on where this style of betting originated from. It is a type of spread betting that eliminates the possibility of a draw. A handicap means giving more weight to something in favour of one team, maximising their chances of winning. In handicap betting, you will only see two handicaps. One of these handicaps is in favour of the strongest team, while the other handicap is given to the weaker team. The weaker team is given the plus symbol while the stronger team has the minus symbol.
Asian Handicapping Eliminates the Draw
Asian Handicap betting is simple to understand. Before a match starts, it's easy to predict which team will win based on their past performance and other factors. That's where handicap betting comes in. this form of betting helps compensate for the difference between the two teams by giving the stronger team a one-goal deficit. The weaker team is given a plus one goal and this way, the two teams can compete fairly. In Asian Handicap, it's either your bet wins or loses since there is no draw.
Asian Handicap Lines - Different Types Explained
Handicap Half Lines (0.5 / 1.5)
Apart from full lines, Asian Handicap betting also offers punters bets on half lines. Half lines are different from full lines because they have a value that ends with a .5. Half lines range between +/-0.5, 1.5, 2.5 and on. Half lines deal with half goal outcomes. Betting with the +0.5 half line means that the team you place a bet on starts the match with a 0.5-goal lead. This means that you get to win if the team wins or there is a draw. However, if the team loses, you lose the bet. Similarly, if you bet on +1.5, one team starts with a positive 1.5-goal lead. You lose if the team loses by more than two goals.
Yes:
Bet ON Home team +0.5 Handicap
No:
Bet AGAINST Home team +0.5 Handicap
Handicap Quarter Lines (0.25 / 0.75)
Quarter lines are completely different from full lines and half lines. Their values end with .25 or .75. One advantage of quarter lines is that the odds are greater because the bet can be covered for various outcomes. You will get a 0.25 goal start or deficit depending on the match you are betting on and the odds. If you bet on 0.25 it means that you will win if the team you bet on wins. If the team loses, you lose the bet and in case the match ends in a draw you get half of the stake.
Alternative Asian Handicap Markets Explained
Draw No Bet vs Asian Handicap
Just like Asian Handicaps, draw no bet wagers allow you to eliminate the draw. However, Draw no bet wagers are slightly different from Asian Handicaps. They are more of two-way Moneylines in some sports such as baseball and hockey. All you have to do during the draw no bet wagering is pick the team to win. If the competition ends in a draw, the entire amount you wagered will be returned. On the other hand, Asian handicap bets eliminate the possibility of a draw by adding points to the underdog. Therefore, the chances of both teams ending up with the same score are low.

Asian Handicap vs European Handicap
Many bettors know the traditional European handicap betting. This form of betting is designed to somehow level the winning chances between two opponents through advantage or disadvantage. The two teams should have different abilities. The main difference between Asian handicap betting and European handicap betting is that the latter offers an additional option. Asian handicap betting only offers two outcomes which are win or lose. The European handicap betting offers three outcomes: win, lose or draw. For this reason, many bettors prefer European handicap betting because it is easier to understand.



Asian Handicap Calculator & Table - Check All Possible AH Outcomes
It's highly recommended that if you are new to Asian Handicap markets you use a calculator. Asian Handicap calculators help you define the possible winning outcomes for the match. The calculator also shows you exactly how much profit you might make from placing a certain bet. On the other hand, an AH table shows the different handicaps, the possible results and the outcome of the bet placed. These tables will show the match result for Asian Handicaps and total goals of Asian Handicaps. The bet outcomes can be won, win a half, push, lose half and lose. Below is a calculator and a table which you can use to see the possible outcomes.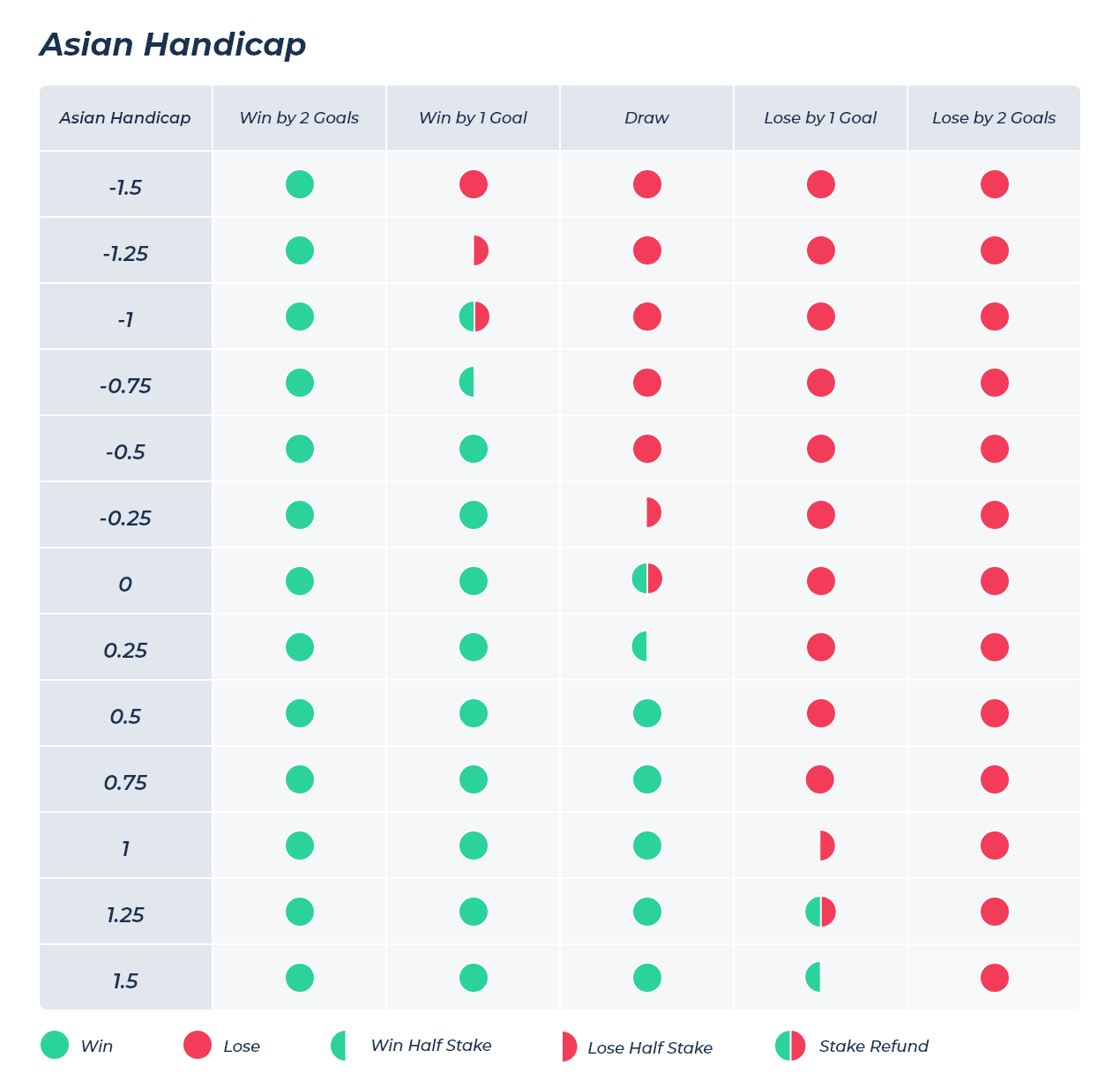 Asian Handicap Tips - Which AH Strategies to Consider
Before you get started with Asian Handicap betting you should have some basic tips. You have to understand AH betting before you venture into the market since it can be confusing to novices. This type of betting involves figuring out different handicaps and when they are assigned to the match. You have to take advantage of that especially when a big handicap is given to one team. You also have to spot the match where odds are in your favour. You can only do this by surveying what different bookmakers offer. Lastly, you have to research the participating team's performance and scoring history.
Benefits of Asian Handicap Betting
One of the main advantages of Asian Handicap betting is that it improves your odds compared to the traditional form of betting. Every bettor's goal is to place bets and win money. The Asian Handicap betting system is usually implemented in a way that the odds are in your favour rather than the bookies. As a result, your chances of winning are high and you get an opportunity to make money from betting.
Another advantage of AH betting is that you can stake on an underdog team at even odds and this wouldn't be possible in traditional betting. This is made possible by the fact that underdog teams are given an advantage over the other teams. Finally, punters like Asian Handicap betting because it offers flexible bets thanks to the various bet types and lines. By using a simple strategy an average punter can make money from Asian Handicap betting.
The Best Sports for Placing Asian Handicap Bets
One of the most popular and straightforward sports to bet on using Asian Handicap is football. One of the main reasons bettors like football for placing Asian Handicap bets is because the possibilities of a draw are high. You will never miss an ongoing football event at a time and this motivates bettors. Other sports like rugby and cricket have the potential for draws but events are rare. Sports like netball and basketball are also great sports for Asian Handicap betting because they have large point totals.
Balancing The Win/Loss/ Draw Odds
The Asian Handicap system simplifies everything for the player. The bookmaker's aim is to come up with a line or handicap that makes the chance of any of the teams winning close to 50%. In most cases, the odds are about 50:50 and the bookmaker offers payouts that are almost equal. Asian Handicaps start as quarter goals and start going higher. The system gives one team an advantage or deficit before the match begins. This way they balance the possibilities of winning and losing.
Live Handicap Betting
Many punters like in-play betting and the good news is that you can take part in live Asian Handicap betting. Just like pre-match Asian Handicap betting, during live events, the supposed strong team is given negative points. The team has to overcome these points by the end of the game. The main difference between in-play AH and pre-match AH is that you can bet from the match's last score. During the event, the game resets back to 0-0 every time a team scores a goal. Note that during live events the handicap comes into effect when the bet is made as the match goes on.
Consider the Key Factors
Whether you are a beginner or an experienced punter, you have to consider some factors before AH betting. Some of the most important factors to look out for include:
Ensure you find a reputable and reliable bookmaker to place your bets
You should always compare the odds across various bookmakers before you place your bet
Research on the participating teams' performance, scoring records and any other relevant information
Check all the teams that score regularly and leagues that have few draws
Available betting bonuses and offers
Compare Available Odds - Get the Best Asian Handicap Odds
Before you place your bet it's important you check the odds provided. The first step should be comparing odds provided by different bookmakers. It's always recommended that you place your bet with bookies that are regulated and trustworthy. Some bookies give you an added advantage because they allow you to trade Asian Handicap odds. This means that punters can place bets before the game begins and get trade-out opportunities. Therefore, look around at what different operators offer when it comes to betting odds.
Conclusion
After reading this article you should have a basic understanding of Asian handicap betting. The most important step is that you select the best online bookmaker that offers great Asian handicap betting odds. Once you have found a good bookmaker, you can deposit money and place your bet on the team that stands a chance of winning. You should be guided by the AH strategy and if possible you can use the AH calculator. By doing so, you will become an experienced Asian handicap bettor.
Eliminates draws;
Higher Odds;
Good for Accas;
Could be hard to understand at first;
High margins;
Bookmakers can place restrictions;
Asian Handicap FAQ: You asked, We Answered
❔

Why is it called 'Asian' Handicap?

The name Asian handicap is simply based on where the style of betting originated from. Asian handicap betting started in Indonesia, and Asia and has since then become popular worldwide.

🏆

What Is the Difference Between the Asian Handicap and Double Chance?

Double chance involves betting on two out of three possible outcomes in an event. You will win the same amount of money in each of the results. On the other hand, Asian handicap betting is about betting on teams that are handicapped and the winning team has to win by more goals.

💶

Can I Get a Refund if I Lost a Bet with Asian Handicap?

There are some instances where the house will refund your stake. Although it's rare, if the match ends with a draw, you will be refunded your stake in full amount.

💳

Why Do Some Teams Have the + and - Sign Before Their Odds?

The Asian handicap lines come with a plus or minus symbol. Underdogs are given a headstart in the game and their lines will come with a plus symbol. Stronger teams "subtracted" some goals and their lines have a minus symbol.

🤔

Do only Asian Bookmakers Offer Asian Handicap Bets?

The name might make you think this type of betting is only available on Asian bookies. However, there are numerous bookmakers that offer Asian handicap betting across the world.

❔

How Do Asian Handicap Work in Soccer?

Asian handicap is a popular type of betting especially in Asia where it originated. It is a type of betting whereby odds are set by giving a "head start" to one of the teams by allocating goals before the game starts.

🏆

Who decides the Asian Handicap?

Asian handicap is mostly used in football and many bookmakers offer this type of betting. The bookmaker gets to decide the odds and which team should be given an advantage or disadvantage.

💶

Which Sports Offer Asian Handicap?

Asian handicap is a very popular form of betting on football. It's a form of spread betting and many punters like Asian Handicap because of its many advantages. You will also find Asian handicap betting on other sports such as rugby, cricket and basketball.

💳

Can a Game End in A Draw with Asian Handicap Sports Bet?

Asian handicap completely eliminates the chance for a draw during a match. This is done by creating a 50-50 chance of winning. Therefore, it's almost impossible for the two teams to have the same score by the end of the match.

❔

What Does It Mean to Win Half of The Stake?

It's as simple as it sounds. Win half stake means that you will win half the stake you placed once it has been multiplied by the odds. So the bookmaker will return half of your stake and the same applies to losing half the stake.

This article was written by our team of betting experts, any contributing references are noted below.