Betting On Soccer
Soccer is comfortably the biggest sport internationally and has continued to grow even larger in the US with the support of the MLS. And while the MLS has steadily grown in popularity, the beauty of the high quality soccer betting sites USA is that you have countless major leagues and tournaments to test your betting mettle with. To name but a few, you could become more invested in
 the EPL (English Premier League), 
the Bundesliga,  
La Liga, 
Serie A 
Ligue 1.
There are so many exciting soccer leagues to choose from all with their own domestic cups and tournaments. 
The best soccer betting sites will make sure to give you access to most of these leagues and tournaments, as well as give you access to numerous different betting markets as well (but we'll touch on the later in our comparison). So, pick your favourite teams, most promising fixtures and the leagues with the highest stakes and get cracking with your dream soccer betting sites by checking out our list of options over at Oddspedia. 
Upcoming soccer events
There are so many different leagues and tournaments for you to keep an eye out for. Some are currently hitting the most exciting parts of the tournament where others are only just getting started. For example, you may already want to make your pick for the winner of the MLS which is starting on the 16th of April. Your odds before the season starts on an underdog are going to be much stronger than if that underdog has a good start to the season. 
If you are raring to go then the best tournament for you to get stuck into is undoubtedly the UEFA Champions League. We are currently approaching the first legs of the quarter-finals with some tasty matchups being thrown up. You can take a punt on the Liverpool vs Real Madrid game which is arguably the tie of the round. You may want to have a stab at the rematch between last year's finalists Bayern Munich and PSG. Or you could bet smaller amounts on all of the soccer matches and create a nice little accumulator bet for yourself. The options abound!
A big win, for big inspiration
If you are looking for some inspiration then we have to bring up one of the biggest soccer bet wins of the past. A man named Mick Gibbs from England won a soccer accumulator bet in 2001 by correctly predicting 15 results across Europe including the Champions League final in which Bayern beat Valencia. Mick Gibbs placed a $0.4 dollar bet on his 15 game accumulator bet and walked away with a little under $700,000. Not a bad day's work for $0.4 risk if you ask us. If that doesn't give you some inspiration to find the best soccer betting sites on Oddspedia we don't know what will. 
How To Start Betting
Everything You Need To Know In 5 Easy Steps!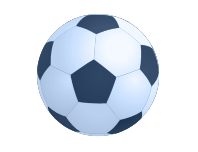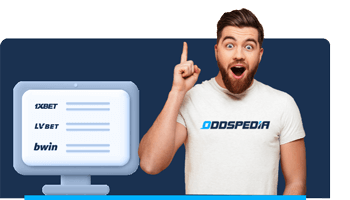 Pick A Highly Rated Sportsbook
Find the right betting site for you and sign up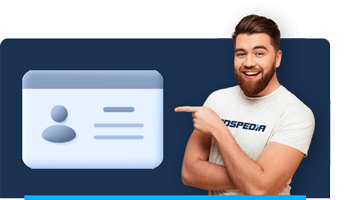 Fund Your Account
Make a deposit with the payment provider you prefer. Consider responsible gambling features and bankroll management.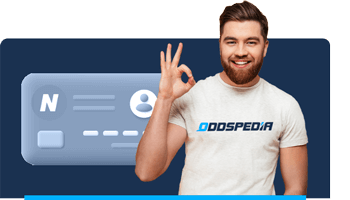 Claim the Bonus
Many betting sites have a welcome bonus or free bet, which you can claim after making the first deposit. *never forget to read the small print!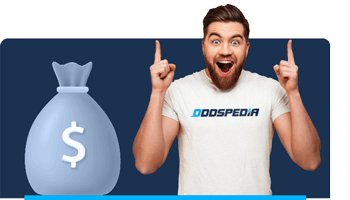 Choose An Event To Bet On
Find an event you are interested in, select a betting market that appeals to you the most and "click" on the odds.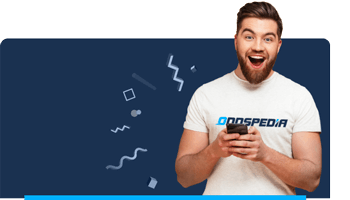 Start Betting
Go to the bet slip and input the details of your desired bet and confirm the wager.
Markets Available For Soccer Betting
When it comes to using the best soccer betting sites you will want to expand your betting horizons the more you play. What we mean by this is, is that a punter can only bet on so many fixtures and only bet who the winner will be. If you are only picking value bets and underdogs you can definitely still make some good returns with that straightforward betting market. However, the really exciting bets are when you diversify your betting markets. Let's take a look at some of the most popular betting markets used on the best soccer betting site. 
Low-risk betting markets:
Double Chance: the double chance betting market is similar to just predicting a home win or away win but as the name suggests, you are taking on two of three options for a result. So, for example, you can bet on a home win and a draw. You can also bet on a home win and an away win. The point here is that you are covering 2 of the 3 bases which leaves you fairly well protected. Naturally, the odds on a double chance betting market are not incredibly lucrative which is why it is considered pretty risk free.
Draw-no-bet: the draw-no-bet betting market is similar to the double chance market in some ways but with its own unique twist. If you back a home win but the match ends in a draw then your initial stake is returned to you in full. If the team you backed loses then you lose your stake. It's fairly easy to grasp, you'll win the bet if your team wins. If it's a draw you get your money back and if the other team wins you lose your bet.
Higher risk betting markets
Correct score: a correct score betting market is far riskier than the previous markets we have mentioned. As the name suggests you need to guess the correct score of the fixture. So, if you predict a 2-1 win to LA Galaxy and Galaxy win by that score then you take home the winnings. If Galaxy loses 2-1 it doesn't count in your favour at all, it's a straight loss of your bet. The odds on correct score markets are much higher than double chance and draw-no-bet markets.
Over/Under: over/under betting markets can be quite risky depending on what you go for. If you decide that there will be more than 0.5 goals in the match then your odds are going to be fairly low and your bet risk-averse. If you go for more than 3.5 goals in the match then your odds are going to be much higher and potential winnings much bigger. Of course the higher you go with your over/under prediction the more risky your bet is.


100% Welcome Bonus up to 7BTC!


100% Bonus on the first deposit up to €/$130!

How We Evaluate Soccer Sportsbooks
We wouldn't be very good at our jobs if we just picked soccer betting sites at random and told you they were all the best. That is why we conduct in-depth and objective reviews of the best soccer betting sites in USA. In order to find the best betting sites for soccer we don't deviate from our rigorous review system. Let's take a closer look at some of the main factors we look out for in the best US soccer betting sites:
Live betting & streaming
If there is one thing you can count on us to test out rigorously, it's the live betting feature on the best soccer betting sites USA. First and foremost, we check to see how functional the live betting feature is. What we mean by this is, how well does it run? Are there any delays when you place a bet? What are the odds like specifically for live betting? We answer all these questions in our reviews of the best USA soccer betting sites. We test the live betting out of the best soccer betting sites in the US and report back to you with our reviews. You'll know exactly what you are in for when you use live betting features on these sites. 
But live betting isn't the whole package. We also want to find out if we can watch a couple of the soccer matches we just bet on with the same bookmaker. There are plenty of the best soccer betting sites in the US that offer a live streaming feature but it may not run as well as some of their competitors. What is the quality like? Does it buffer a lot? How many different leagues can I watch? These are the burning questions that soccer betting fanatics want to know which is why we cover them in our reviews of these sites. We leave no stone unturned in our reviews of the best soccer betting sites. 
Competitive soccer betting odds
The next thing we look at is how competitive the odds are on the site. Look, we aren't expecting the earth to tremble at the site of the highest odds we've ever seen because that's just not how this industry works. That being said, we do want to see fair and competitive odds that when used well provide value on many of the fixtures in comparison to some of the other online sportsbooks. 
Promotional offers for soccer betting
One thing we absolutely love to see are some promotional offers for soccer betting. This could be anything from a free bet to an odds booster on certain leagues and weekend fixtures. Regular soccer betting promotions are a great way to entice punters to the sport and keep the player base who are already soccer betting fans happy. 
We also look out for loyalty programmes that might allow soccer betting fans to earn some exciting rewards from betting regularly on the site. This may not always be the case, or at least the loyalty programme may not be that specific but a sports related rewards programme will generally incorporate soccer betting as well. If we find no such promotional offerings or rewards programs on these soccer betting sites we won't be recommending them to our soccer betting readers.
Tips For Finding The Best Soccer Bookmaker For You
We know how many soccer betting sites are out there for you to choose from. Trust us, the amount of reviews we have covered we know just how many choices you have. And on top of that you can find all our reviews on the Oddpedia website to help guide you to finding the best soccer betting sites for you to bet with. 
With that being said, it's important that you still keep some of your personal preferences in mind when choosing from our list of reviews. Your personal preferences can be anything really. If you have a specific payment method you like using then you will want to make sure that you check out our payment section to make sure that the bookie you are interested in using offers that method. 
You might want to find a soccer betting site that offers a strong range of different leagues, including the lesser known lower leagues as well. Or even obscure leagues from countries who don't necessarily get a lot of coverage. 
Whatever the case might be, it's always a good idea to keep some of the more important factors you would like to see in the best soccer betting sites in the back of your mind when you read our reviews on Oddspedia. This way you can narrow your search and pick from a smaller pool of the top soccer betting sites in the US. We can guide you to a point but at the end of the day the decision falls to you to decide what site is going to do the job for you. 
Conclusion 
And so we come to the end of our guide on how you can go about finding the ideal soccer betting sites that suit your needs. Always keep the betting markets in mind as this is what will sustain your soccer betting endeavours. Remember you can always check back with us here at Oddspedia to see what some of our reviews are saying about the latest soccer betting sites and their features. You'll never be in the dark with our guides and review in your corner!