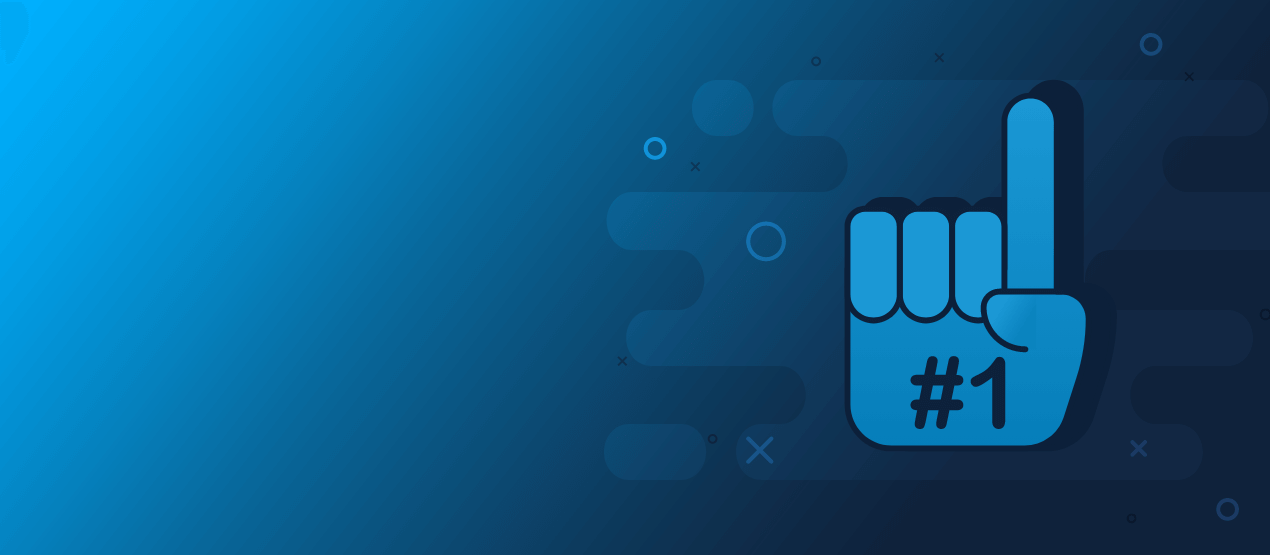 24 Oct 2023
Report: Which NFL Fans Support their Team Through Thick and Thin
To many NFL fans, football is more than just a game. It's rooted in tradition and something that makes the season change from fall into winter more fun and bearable. But what happens when your favorite team isn't winning and that Super Bowl run seems to be more of a dream than reality?
Our new report analyzes data to figure out which NFL fans are the most authentic and stand by their team consistently whether they're winning or losing. We also learned which fans won't support their team through thick and thin.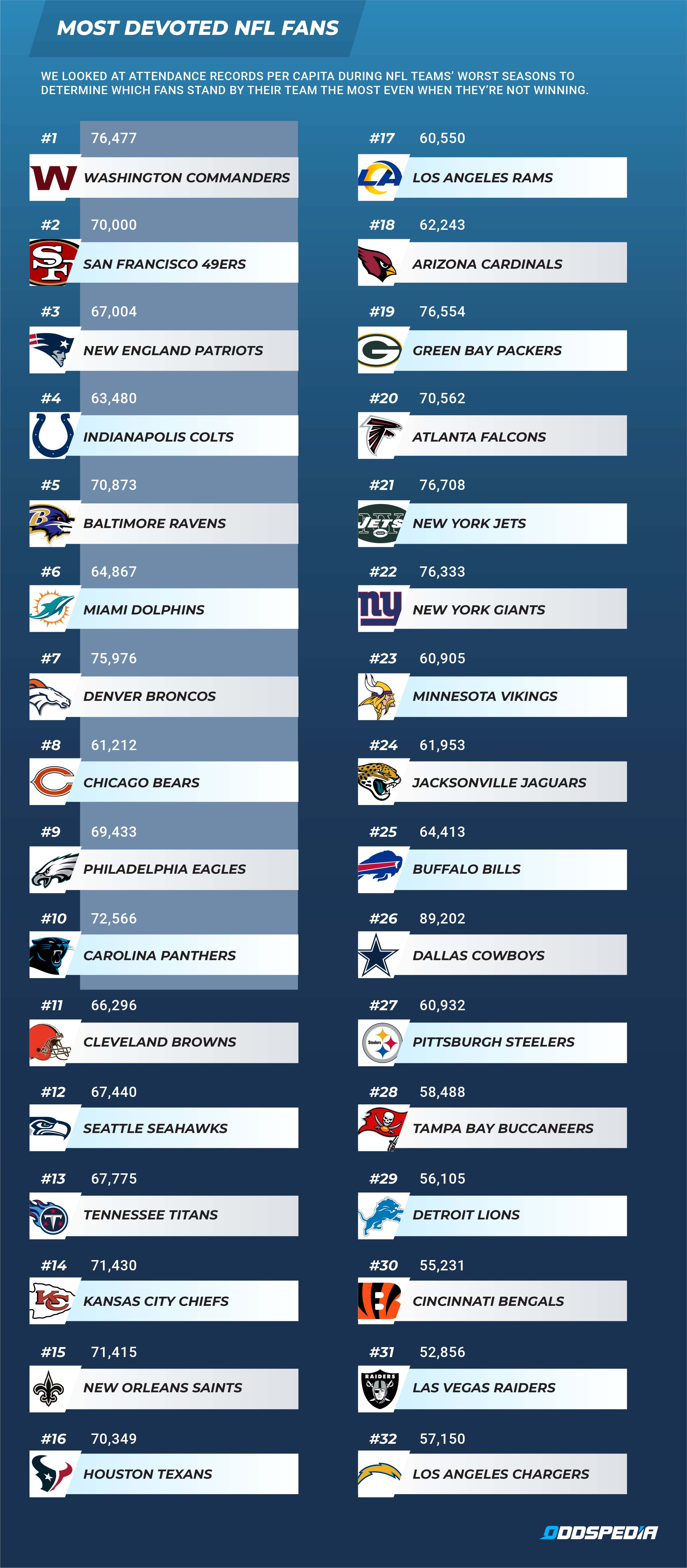 NFL fans may talk a big talk, but the numbers don't lie. Using data dating back to 2008, we looked at each NFL team's five worst seasons. From there, we gathered the average attendance and determined which teams had the highest attendance levels per capita.
We found fans of the Washington Commanders are the most authentic in the league. Despite only winning three games in the 2013-2014 season and the 2019-2020 season, fans came out in droves to support their team. The average attendance during the team's five worst-performing seasons was more than 76,000!
Other top devoted fan bases included the San Francisco 49ers (2nd) and New England Patriots (3rd). However, we do want to mention that the so-called "worst" seasons for Patriots fans weren't all that bad. With Tom Brady at the helm from 2001-2019, the team's worst season was the most recent 2021-2022 season. Even so, Patriots fans only had to deal with seven losses. Compare that to the Cleveland Browns who had zero wins in the 2017-2018 season and Detroit Lions who had zero wins in the 2008-2009 season.
The losses have taken a toll on Lions fans who ranked some of the least devoted fans in the league when their team isn't playing well. The team ranked 5th worst for fan support and only had an average of 56,105 fans come out to cheer them on when they're down for the count, leaving more than 8,300 seats open.
NFL fans out west, especially in Southern California, also have better things to do when their teams aren't Super Bowl bound. Maybe they just don't want to deal with traffic to watch their team lose or would rather get in some beach time.
The Los Angeles Chargers ranked worst in the league for fan support.
Meanwhile, Los Angeles Rams fans ranked in the middle of the league at 17th. We do want to note the Rams' worst seasons were almost all before they moved to LA. So, their ranking was mainly based on their time in St. Louis.
There is an unwritten rule when it comes to betting - "Never bet on your favorite team". However, nothing is being said about betting on your biggest rivals to lose if the odds favor it. With sports betting being legalized in more and more states, fans can now test their betting knowledge and expertise in football and many other sports for that matter. Here are the latest states with the best sportsbooks that have made it possible for fans to bet legally:
Fakest NFL Fans in the League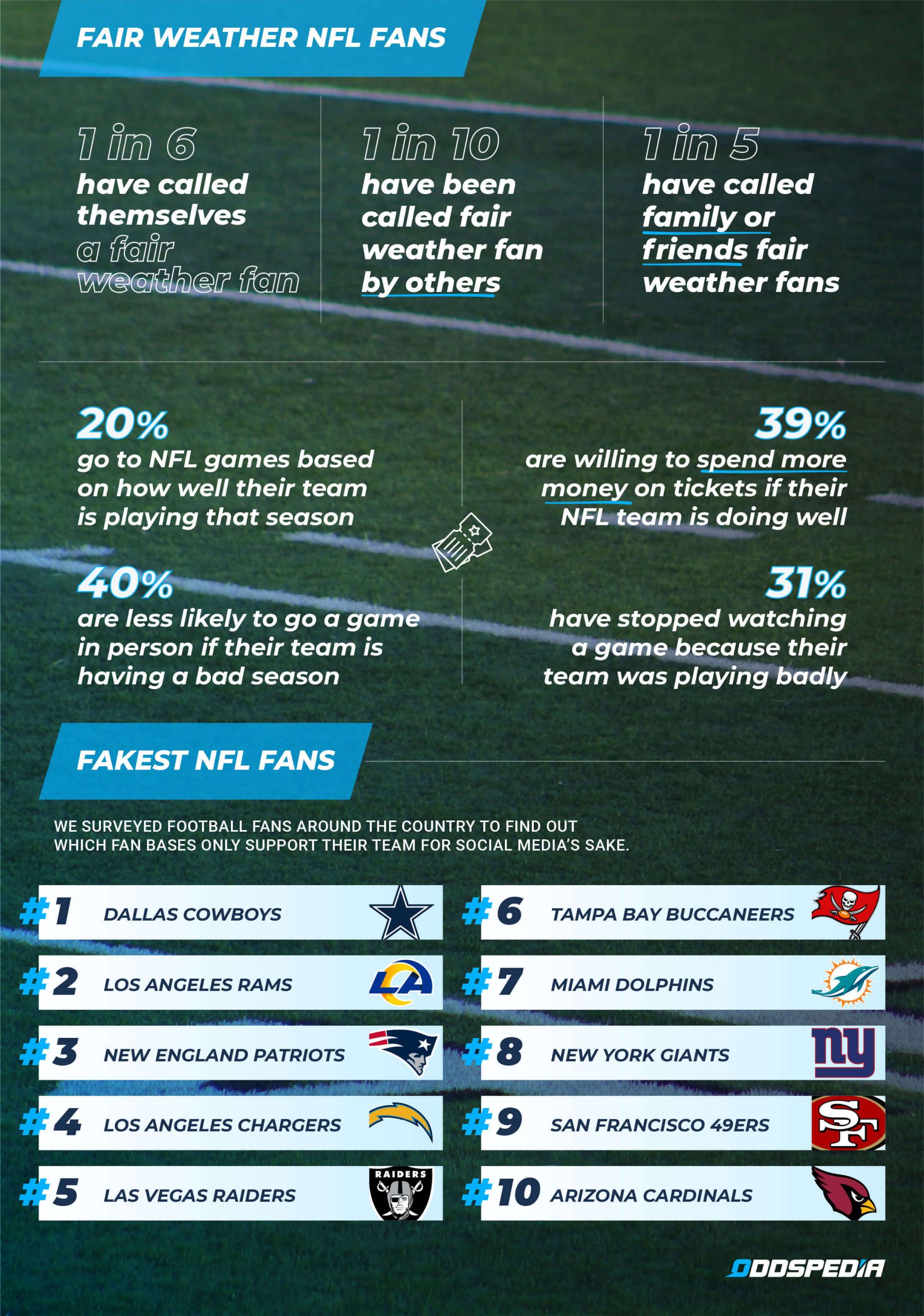 In a survey of 1,000 Americans, we asked people to get candid about how much or little they support their favorite NFL teams. We found that 1 in 6 (16%) have called themselves a fair weather fan, but more often than not, they've called others out for being unsupportive.
More than 1 in 5 (21%) admitted to calling family or friends fair weather fans.
When it comes down to it, more NFL fans are willing to pay to see their team when they're playing well. Nearly 2 in 5 admitted they'll spend more money on tickets if their NFL team is doing well, and 1 in 5 go to NFL games based on how well their team is playing that season. Already this season, NFL fans have spent an average $212 on tickets so far!
Meanwhile, 2 in 5 are less likely to go to a game in person if their team is playing badly. Even if they're not at the stadium, fans admitted they'll give up on their team if they're getting stomped. Nearly 1 in 3 (31%) have stopped watching a game because their team was losing.
Others admitted to leaving games early because of the elements. Nearly 1 in 6 (15%) have left an NFL game early because of bad weather, and 1 in 5 have skipped an NFL game altogether because of bad weather!
When asked which NFL fans only go to or watch games for the 'gram, fans went straight for the Dallas Cowboys fanbase.
Nearly 1 in 4 called Cowboys fans the fakest in the league, accusing the fans of only supporting their team for social media's sake.
The other most inauthentic fan bases included the Los Angeles Rams (2nd), New England Patriots (3rd), Los Angeles Chargers (4th), and Las Vegas Raiders (5th).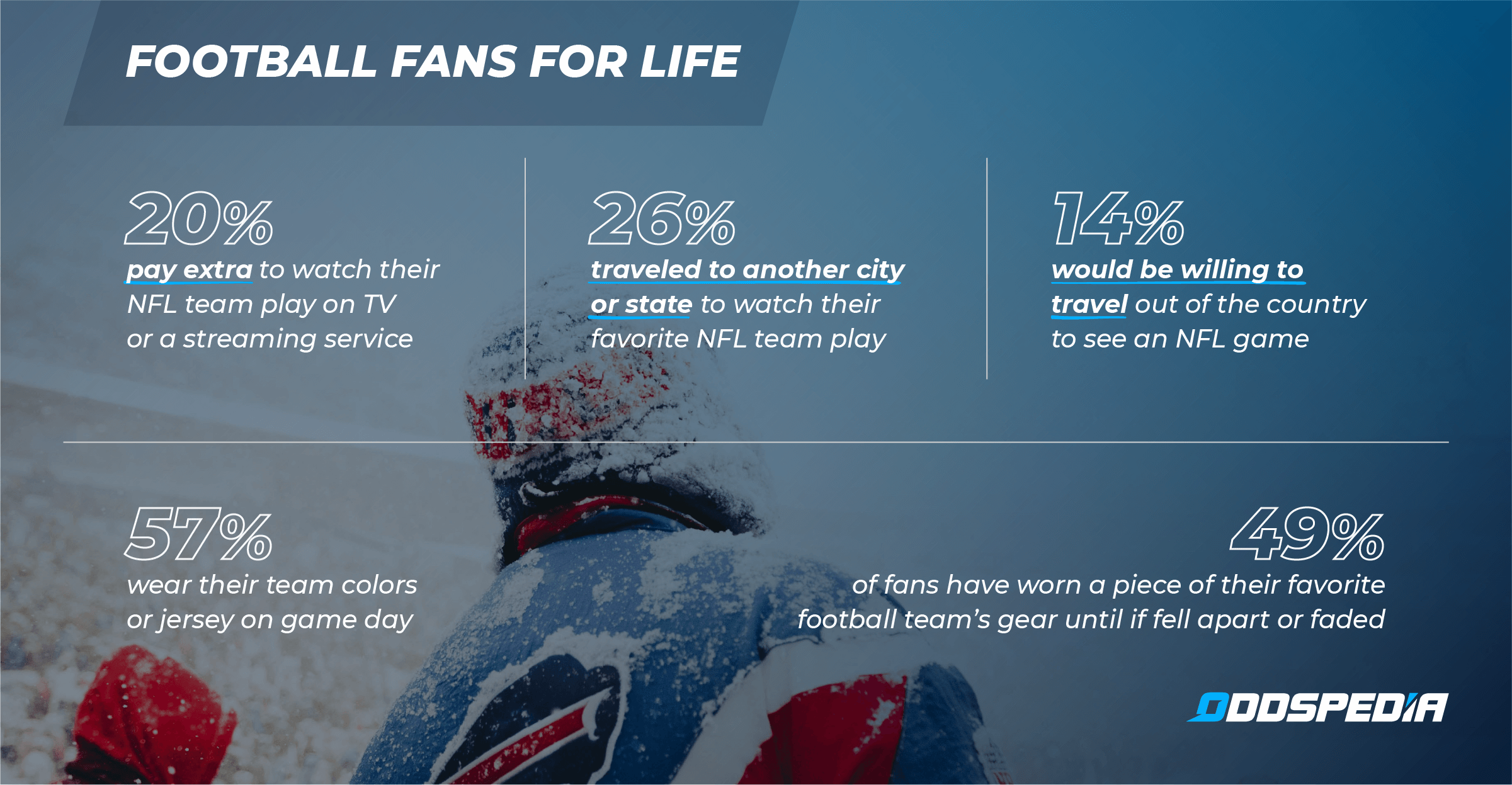 While some football fans aren't fans for life, others take their love of the game to the next level. More than 1 in 4 (26%) have traveled to another city or state to watch their favorite NFL team play, and 14% would be willing to travel out of the country to see an NFL game. Recently, the NFL has been playing games in London, but fans said they'd also love to see an NFL game anywhere from the Bahamas to Munich, Paris, Mexico City, Tokyo, or even Dubai. We even expect some of the best NFL sportsbooks to start offering betting odds for the next overseas location where NFL games may be played at.
No matter where fans are, on game day 57% wear their team colors or jersey. Nearly 1 in 2 have actually worn a piece of their favorite football team's gear until it fell apart or faded.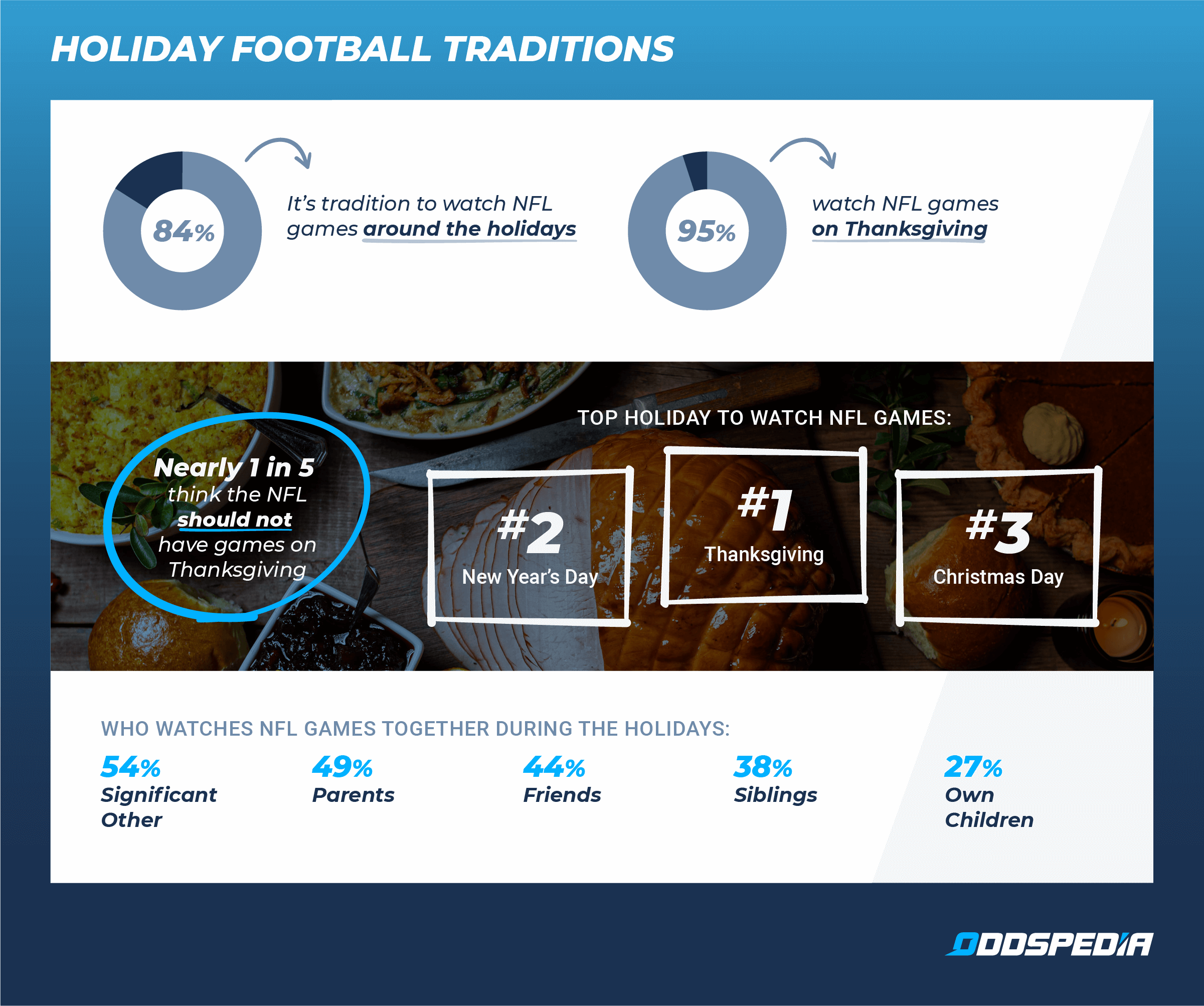 For many, football is also part of their family tradition, especially around the holidays. It's tradition for 84% to watch NFL games around the holidays, and 95% watch them on Thanksgiving! But not everyone is a fan of turkey and football on the same day. Nearly 1 in 5 (18%) think the NFL should not have games on Thanksgiving and take the day off like many stores have been doing in recent years.
Other top holidays to catch a football game with high NFL odds include New Year's Day (37%) and Christmas Day (33%). Most of the time, people watch these games with their significant other or parents, but nearly 1 in 2 (44%) watch NFL games with friends during the holidays.
So, whether you're catching a football game during a Thanksgiving potluck or watching every single NFL game this fall, we hope you get a chance to cheer on your favorite team this year. Maybe you'll even be able to start some new traditions and turn some fair weather fans into the most dedicated NFL fans in the league.
Methodology
To determine the most devoted NFL fans we determined each NFL team's top 5 worst records from the 2021-2022 season through the 2008-2009 season using ESPN data. We did not use data from the 2020-2021 season because of attendance limitations. We then gathered the average attendance records for the worst season and determined the average. Since stadium sizes vary across the NFL teams, we determined the average number of fans per capita, and used those results to rank the most and least devoted NFL fans.
In September 2022, we also surveyed 1,046 people about their favorite NFL team and other NFL fan bases. 49% were female, 49% male, 1% nonbinary, and 1% transgender. Respondents ranged in age from 18 to 80. The average age was 38.
Fair Use
When using this data and research, please attribute by linking to this study and citing oddspedia.com.